All he ever wanted to do was entertain. As a young boy Lil Drift would hum and vibe to beats that he heard on his older brother's blackberry phone. By the time he was 5 years old, he picked up the pen and never put it down. He grew to love the acoustic guitar and the sound of the reverb that gives his music that distinct spacy, and lawless vibe that he is known for. Drift released his highly anticipated EP "Closer to Yesterday" on January 1st, after stunning the world with his debut freestyle that went viral and left Hip Hop wanting more. At the age of 20, he has already performed before thousands and opened up for Shoreline Mafia, Blue Face, and Lil Baby. Hungry and headed to the top, the young rapper already has worked with Casey Veggies, Skinny from the 9, PJ3K, and 03 Greedo. Lil Drift is on his way to the #1 spot as he gives you music to vibe to.
Why did you name the album Closer to yesterday? Tell us about your first single "Catch my drift." 
I named the album closer to yesterday because just a year ago I had nothing. I speak what I want and I say what I think, I just hope people can relate to that. Catch my drift is an up-beat, club type of song. It's about having fun in life, cars, houses, and turning up. 
How do you describe your sound, being a part of millennial, new age rap? 
I sing and I rap. I love to use the guitar because it speaks to people the strongest of all instruments, so if you can make music on the acoustic guitar you can create a hit song. 
How does your fashion pour out into your creativity when you're creating music? 
There is an art to the way I present myself as an entertainer. The clothing that I wear makes me feel a certain way when you step out, especially when I'm on stage. This is important because I'm an original artist and my image translates into an original sound, performance, and overall experience. I like to entertain in red bottoms, pants embedded with studs, cross sweaters, and Diamond belts. 
Are there any artist's that you want to work with? What do you plan to accomplish over the next decade? Describe LA's influence on your music. 
I would love to work with Jay Z, Justin Beiber, J Cole, and Kirko Bangz. Over the next decade I want #1 hits on Billboard, business ownership, to buy my mother a home, and a community studio in Los Angeles that teaches people how to sing and play the guitar. Los Angeles influences my music in the sense that if you can make it in LA you can make it anywhere because I'm very hungry and driven.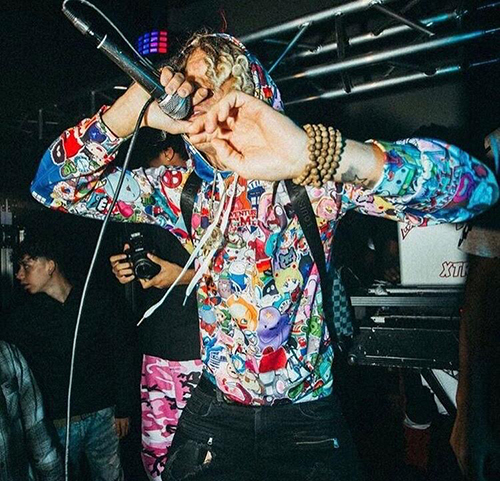 For more on Rapper Lil Drift follow him on Instagram and Twitter.
This feature was written by Lady Jessica Dupree and edited by Brittany Burke.
Brittany Burton is an entertainment publicist, writer and editor from the Chicago, metropolitan area. Having entered the business at the tinder age of 19, she is using the power of words, communication, service and love to spread more influence in a positive way. Fortunate enough to work with the likes of SZA, DJ Drama, Huffington Post, Buzzfeed, and Respect Magazine to name a few, she is taking her career to new heights, as a rising publicist in the entertainment world. Her hard work finally paid off this year, as she was recently honored for her contributions in the media and music industry, at the first annual All Purple Gala in Washington D.C. Brittany Burton is looking forward to the best years of her career entering a new decade.