Crown Heights rapper, Lil Haiti is making major moves inside and outside of the music industry. Ontop of releasing new music, Lil Haiti has helped his fans struggling during this time of the ongoing pandemic by buying meals over Instagram! We recently caught up with the rapper to discuss all the details of his new single, COVID-19, and his future plans in store for us.
Tell us about your new single, "Where The Cap At."
"Where The Cap At" was actually created based on a true story. Throughout the pandemic, I was actually giving money to the fans, those less fortunate, and just helping people. I did that through CashApp so I decided to make a record called, "Where The Cap At" to get creative with it.
How was your experience working on The Big Zoe and why was it important for you to pay homage to your Haitian culture?
It was very important. For the people that don't know, I get that a lot. I was born and raised in Haiti; so yes, I am Haitian. With The Big Zoe, I just had to tap in and let people know that I am the Big Zoe. I tried to put Haiti really on the map. I wanted to prove that there is a lot of talent, you just have to give them time to grow. I'm a good example of that. I want people to know that.
How has it been being a creative during COVID-19?
During this time, it hasn't affected me as a creative because I have a home studio. I had a lot more time because of the pandemic. I was able to record more, I did more with my family in terms of quality time. I feel like the pandemic slowed time down for me. Everything was shut down. It was time to really look into yourself, the people around you, and the people that you love. I took advantage of how the country slowed down and connected with my kids, family, and get more creative with my music, because I have the time.
What are you currently working on and what can we expect to see from you in 2021?
For the rest of 2021, I would hope that I will have my album out soon. I'm definitely working on doing more giveaways. I have a giveaway going on right now to give back to single mothers. I'll be selecting ten single mothers. This is the roll out right now. It should've happened before my EP but unfortunately, due to COVID there were a lot of restrictions. We fell back on this project, but it looks like by July [I live in New York] everything should be opening up [God willing] and I look forward to bringing it all back into process.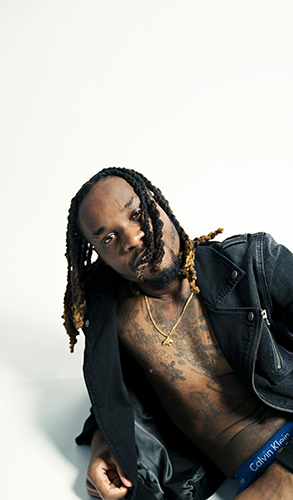 For more on Lil Haiti, follow him on Facebook, Instagram, & Twitter.
All images by Chris Andrade