Journalist and entrepreneuer Raven Paris just recently released her workbook titled, "The Game Changer: Start Up Kit to Become or Sustain Entrepreneurship. In an effort to help current and aspiring entrepreneurs, Raven wanted to make sure she used her talents to help achieve the maximum level of success. We caught up with her to discuss the inspiration behind her workbook, the challenges she's endured as a black female business owner, and much more.
Tell us about the inspiration to create your workbook, The Game Changer: Start Up Kit to Become or Sustain Entrepreneurship.
I've always been passionate about using my voice to empower and motivate creatives and entrepreneurs that reminded me of myself. No one taught me how to break into the industry nor how to start and sustain entrepreneurship.  I wanted to become an example for others by giving back and supplying them with resources to help grow and perfect their businesses.
For the past three years, I've hosted one-on-one brand consultations in between my media gigs. My spiritual mentor, Karen, suggested that I look into creating an online course for my clients to learn from me even when I'm not physically available. Though I've been meaning to complete this task for a while, it wasn't until I was forced to be still in quarantine (due to COVID-19) that I  actually found time to work on it. I decided to start writing and structuring my workbook right on my MacBook and completed it within 24hours, getting little to no sleep that day. Once I started, I didn't stop, and I was so amazed at the finished product. I knew that I had just created something that was going to really change the game and help my fellow colleagues and the generations to come.
Why do you believe this was so important for you to release, especially right now during a global pandemic?
Releasing The Game Changer: Start Up Kit to Become or Sustain Entrepreneurship was really important for me to release right now because more people are beginning to tap into their entrepreneurial skills. After doing my research I learned that during this global pandemic more money has been spent and invested into business start ups. Over the past four months I've also been asked so many questions via email and social media pertaining to how I've been able to sustain my business and tips on how they can launch theirs.
While many people are heavily focused on making their own income, this is the perfect time to share my knowledge on how to brand, market, and grow their business! Also, with a lot of schools hosting virtual classes this year, my plan is to connect with school systems to begin a virtual entrepreneurial curriculum where they can use my workbook as a guide.
With August being National Black Business month, what is one major challenge you've experienced as a black business owner, and how can your book help others work through this challenge?
One major challenge I've experienced as a Black business owner is having to fight the typical stereotypes of not just being Black, but being a Black woman in a male dominated industry. There is a consistent fight to work even harder to ensure that my talents are taken seriously.
In many cases, the stereotypes placed upon me forced me to learn the industry and perfect my craft even faster so that I could make my own table and provide seats for others that look like me.
The amount of success I've been able to achieve thus far by partnering with companies such as TMZ, BET, Radio One, Deleon Tequila, and Revolt were all due to self-taught skills and strategies. Using The Game Changer: Start up kit to become or sustain entrepreneurship, other Black business owners will be given the blueprint to brand and market themselves in a way where they will be able to create their own tables. They will not feel the need to have to change who they are to gain opportunities because the workbook will teach them the techniques to compete in the marketplace and create tangible results for their business.
How has quarantine life been for you? What are you currently working on?
Quarantine has been a gift and a curse. Having to witness friends, family and so many others be affected by COVID-19 and the tragedies and injustices happening in the Black community has been hard to process sometimes, especially as an empath. But outside of those events, this time has also proven that God can still be a blessing.
My life before quarantine was pretty hectic. I was always on the go, spending money, and didn't really have time to focus on extracurricular activities or projects. Quarantine allowed me to truly rest, pay attention to my finances, and tap into my purpose even more.  Once I realized I would no longer be able to consult with my clients in-person, I started consulting with them through Zoom, then eventually started conducting marketing and branding workshops for everyone to join. In the midst of hosting those virtual workshops, I created The Game Changer: Start Up Kit to Become or Sustain Entrepreneurship. I began using chapters from my book to teach in my virtual workshops to see how impactful my teachings would be. After reading my google reviews,  I then gained enough confidence to share my workbook with the world. So in turn, quarantine life made me an official author. It also made me a new fiance. 
What can we expect to see from you in the future?
In the future you can expect to see my book being used in school programs globally. You can also expect to see me back on the radio and hosting on one of your favorite networks-all in God's timing, simply taking one day and passion at a time. Most importantly, you can expect me to continue inspiring, motivating, teaching and being a Game Changer!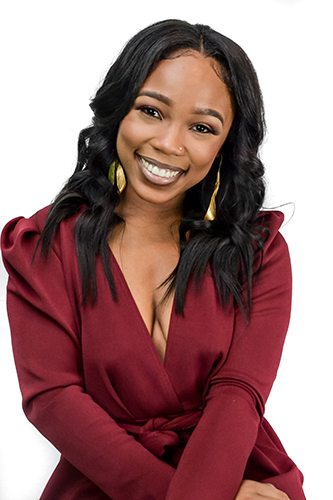 For more on Raven Paris, follow her on Instagram today!
All images by Greene Eye Photography | Mia Greene