There's only one Ty'Ahna Maray—and she's adding a much-needed soulful sound to the music industry. The multitalented R&B artist is also a student and an entrepreneur who intends on inspiring individuals all around the world through community outreach efforts, motivation and more. Originally from Chicago, Maray's talent is authentic with an artistry like no other. Many first heard of the songstress from Diggy Simmon's 2017 East Coast Tour— but now she's even better. Get to know the next young mogul and treat yourself by listening to her discography.
How do you balance being a student with a high GPA, an artist, and an entrepreneur? 
I love this question! While I'm still trying to find the most effective way to balance everything, lately what's been working for me is writing everything down the old school way in a planner. I have to physically see my plans and goals to be able to prioritize them and make them happen.
When do you find time for yourself?
I find time for myself every day, even if it's a small smoothie break or a full day off. Self-care is important to me and heavily pushed throughout my team. Also, it's about working smart, not hard!
Tell us about your experience with the DTLR HBCU tour.
The DTLR HBCU tour was an amazing opportunity and I'm truly grateful for it! I was able to connect with my peers, make new connections, industry friends & most importantly, inspire so many. My favorite part was when student artist/influencers would ask for advice about being a singer/rapper. My #1 advice each time is to remain consistent and believe in yourself in everything that you do!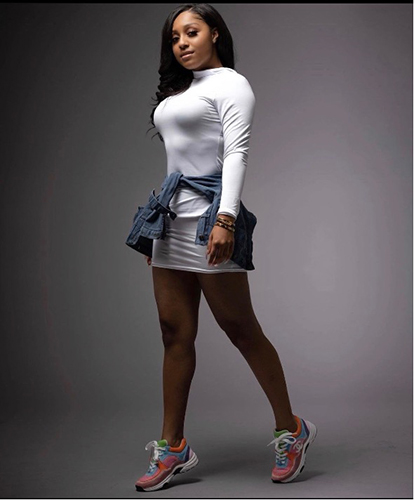 What was the thought process behind your hit single, "5 Mins"? 
So, during the time "5 Mins" was created I was home in Atl from school, and I was truly ready to mature my sound and show my team and listeners that I really meant business. So not only is my passion and hunger on a whole nother level, I was also talking to a guy that I like to refer to as "mixy". Yes, you guessed it, always in the mix. So, my hunger mixed with real life events, plus chemistry between myself & the producer it was fireworks!!!!!
Fans are eager for new music. Are there any upcoming projects they can expect?
 Yes!!!!!! I will release a single every month until the release of my Album which is expected End of 1st quarter/ top of second. The three single's that I will be dropping are titled "Baecation", "Forever", and "White Toes"! The songs I'm putting out next will hit the charts & I can't wait!!!
Thank You So Much Sheen Magazine & to my team! I truly appreciate all of you so much ❤️
To Learn more about Ty'Ahna Maray visit her website.
Watch the official music video For "5 Mins" below.
Images courtesy of John