Our culture is sacred, it holds onto our hearts remind us of who we are, and what can be accomplished. Given the tools, we continue to reach lengths that will be passed down for the next generation. As apart of nourishing to our people, Artists/Designer of "Blueprint Redefined," Faithe Bey has dedicated her passion for creating as a monument for all to seek refuge in claiming the traces left behind in the Blueprint.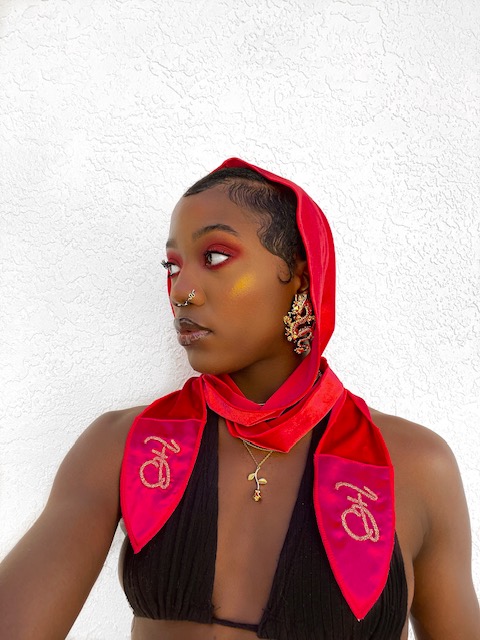 Can you share the background for your brand called Blueprint Redefined?
So, the Blueprint brand first came to life in October 2019 when I made a collection of oil paintings called "We Are the Blueprint." The four pieces, "Our Lips," "Our Bodies," "Our Style," and "Our Hair" as a whole were about highlighting trends in pop culture that were inspired by Black women. Big lips, big butts, curvy bodies, dramatic jewelry, and nails. We did that. I wanted to shine a positive light on our contributions. Blueprint Redefined 2022 is about helping others discover their Blueprints. What are your dreams? What do you want to be remembered for? What makes you, you?
When did you know that Blueprint was needed in this era?
I feel like credit to the Black community in general is always needed. There are so many other things that we've contributed to society that haven't been touched on.
What made you decide to go with this concept as one of the faces of your artwork?
The idea for this collection came to me one day while I was scrolling through Twitter. A non-Black woman had posted these photos of her in a long, bright, neon pink wig. You know, the "ghetto" ones. Everyone loved it on her of course. They thought it was bold, exciting, and new. Anyways, someone quoted that tweet and said, "Wow. Black women really are the blueprint." And that's when the idea came to me.
How has the process of starting your own brand been for you?
It's been an exciting journey. I've learned new ways to express my ideas through fashion, and what it's like to wear a billion different hats when starting a business. I would say that most of all I've learned a lot about myself, who I want to be, and what kind of mark I want to make on this world. I feel like in the world of social media, you mostly see the accomplishments of those we know or don't know at all (but think we do). On the other side of that screen, it's not as easy or happy as one might think. Starting a business is one thing but growing it and making it sustainable can be challenging. I've learned that you're not always going to be rewarded right away. Results take time. There's also a lot of trial and error that I never would've anticipated when I was just selling 8×10 prints.
What gave you the motivation to share your art with the world in the most authentic way possible?
I feel like that is something I'm in the process of learning right now. The Blueprint will always be my first collection, and I see myself continuing to share its messages forever. However, I am at a point on my journey where I have other things I want to say through my art. When you're a full-time artist, and your income relies mostly on the art you put out there, it's very easy to lose sight of your genuine ideas due to fear. "Will they like this?" "Will they buy this?" My advice is to let these ideas fully develop, and don't be in a rush to share your work just for the sake of putting something out there. I have this new rule that any new art I make, I don't share it online at all for a minimum of 30 days. It's a very new rule, but so far, it's allowed me to stop and think about who I'm making it for. If I'm proud of it, then that is all that matters.
Would you say that the household name holds a message that is considered sacred to you?
Yes, definitely. I wanted to make the art that I never saw growing up. My main goal with the original "We Are the Blueprint" Collection was specifically for Black women to feel proud of all things we do and are. It was the beginning of my journey as an individual artist. My first ever concept. What I love most about it is that, like my headspace, it continues to evolve into more ideas over time. It has branched off into Blueprint Redefined, and it will do so again into something brand new this fall.
As your brand continues to grow, what do you want to take from the entire experience?
As my brand continues to grow, I'm learning many things. I'd say most importantly that 1) I have to be true to myself no matter what and 2) I have to sometimes take things one day at a time. I'm very grateful as well as heavily blessed to be working with my family on this journey. When we combine our strengths, my siblings and I make an unimaginable team. My brother Justus has taught me so much about analytics, data, and marketing. Both him and my sister Tai-Ling are the creative geniuses behind the marketing that you see in our Faithe Bey Art newsletters. My other sister Jolesa always knows the right thing to say when customers need anything. My parents have supported me in every way from the very beginning (it was my dad who bought me my first sets of oil paints.) My other family members and friends have also contributed so much support along the way. It's a different kind of special when they order something from one of my collections. Needless to say. my business today would be absolutely nothing without any of them. I just want to continue to grow as an artist, a businesswoman, and an overall person. And that's what Faithe Bey Art does for me every day.
What can we expect from the brand in the next few months?
Be on the lookout this Fall for our biggest Blueprint Collection yet! Not only is it my last collection of the year, but my last Blueprint Collection for a while. I'll be taking some time to show the world my new idea, and I'm very excited to share them! Be you at BU!
As an individual who has found their definition of the blueprint, what message has helped you develop along the way?
Be open to change, and don't forget to live in the present. Also, to be unapologetic. A wise friend once told me, "It's your world, and everyone else is just living in it."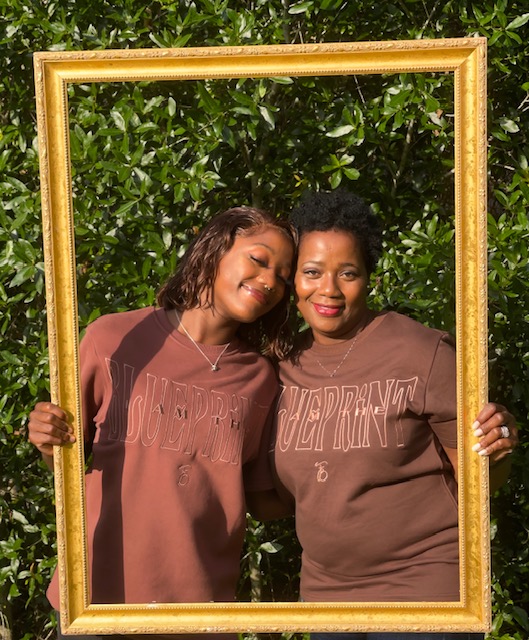 For more information, be sure to check out the collection of FaitheBeyArt along with up and coming projects here!
Photo Courtesy of: Justus Bey IG(@justus_bey) and Tai-Ling Bey IG(@tai_ling16)