Sharde Williams has been a Registered Women's Health Nurse for nine years and knows firsthand how surgery can affect women's bodies. So, when she decided to open up Boujee Bodies Wellness Spa in Jackson Mississippi, she knew she would be bringing something different to her city. Her passion for helping others and her decision to open up a non-surgical wellness spa was the best alternative.  When you come to Sharde's spa you are definitely going to leave with more knowledge about your health, and body. Women learn to prioritize their self-care regime.
Boujee Bodies Wellness Spa mission is to make the average woman feel comfortable within her own body and to leave with the confidence that she didn't have before. Not only should a woman carry a Boujee Attitude but also a Boujee Body to go along with it!
Check out this exclusive interview below with the CEO & University of
Southern Mississippi grad, as she discussed all things business, inspiration, balance and more!
How did you get your start in the industry of nursing?
I always knew that I wanted to be in the medical field, but it did not become clear until after my grandfather became ill and needed a nurse on a regular basis.  After watching the nurses take care of my grandfather, I knew that I wanted to be that person to help take care of others too. I graduated with a Bachelor of Science Degree in Nursing from The University of Southern Mississippi in 2012 and landed my first nursing job at Baptist Health Systems of Jackson, MS.
What are five adjectives to describe your brand?
Fun, sophisticated, innovative, respected, exclusive 
What are the top three services that you offer?
Lymphatic Massages (Post-Op Care)
Full Body Waxing 
Non-Invasive Lipo 
How did you come up with the name Boujee Bodies?
The name was something that me and my husband came up with together.   At the time the song "Bad and Boujee" by Migos was very popular.  After tweaking and adjusting our ideas "Boujee Bodies" was created with the focus to give clients high quality and exclusive body treatment at an affordable cost.  After clientele increased and more services were added we decided to focus on becoming a wellness spa where women come to focus on self-care regularly. That is how "Boujee Bodies Wellness Spa" emerged!  
What's the biggest misconception about the industry that you are in?
This is a get rich quick industry and it doesn't require a lot of manual hands-on work.  All you have to do is post before and after pictures and people will immediately buy from you.
The truth is that I really love and enjoy what I do but if you're not sweating, you're not doing it right.  If you're not promoting no one will know you or feel like you're important enough to support you.  You have to work in this industry and grow your business day by day.  Always trust the process…
What challenges have you faced as an entrepreneur and how did you overcome them?
The biggest challenge that I have faced as entrepreneur is balancing family life and work life.  When you have a business in the beginning, you're doing everything from the advertising all the way to answering the phone when potential clients have questions.  
This aspect is a work in progress for me.  I now limit the number of people that I see and have cut off times for when I answer phone calls or texts. I set aside time to spend with my husband and 3 children weekly.  So far it has been working out for both the business and my family so I'm sticking with it. 
What keeps you motivated?
My clients keep me motivated. Seeing them happy and putting their health first makes everything I do with it.  If my clients are not happy, I'm not doing my part.   
What advice would you give any future entrepreneurs?
My advice to any future entrepreneur is stay consistent regardless of what you have going on.  Do not Let your circumstances determine your outcome. It does not matter who supports you.  Believe in yourself and others will do the same.  Keep good people around you and get rid of those who don't have your best interest in mind.
What's next for Boujee Bodies?
We are expanding and opening a location in our local mall in Ridgeland, MS inside of Northpark Mall and we have a new product to be released very soon!  
What's your favorite quote?
"Failure is not to be feared. It is from failure that most growth comes." -Dee Hock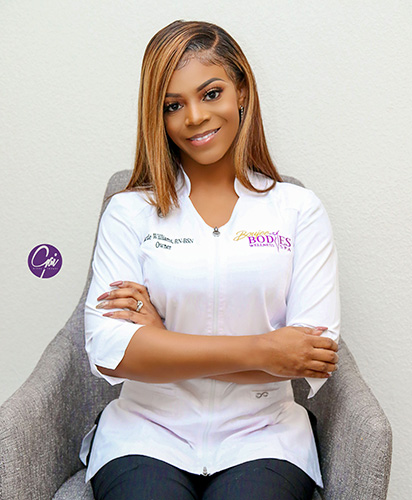 Check out her company at @boujeebodies.
All images by Jay Cannon