His lyricism and quick witted talent is easily noted once you hear his music – Luchie Vibez is the multi-talented star making his presence known tremendously. From his hit songs, "Curb" and "Ride the Way," he is making music that will stand the test of time. Although he's been in quarantine like many of us, he hasn't let that slow down his work ethic or determination to create a better world. We received an in-depth look into the Luchie Vibez – both the CEO and rapper, in real-time.
You're a man of many trades – share with us, how did you find a passion for everything you've got going on?
That passion has always been there because I want to live life the best way possible and help heal the world. For myself, so I can't help them with what they are going to do. Even if I did not know of it, you know just by being the solution-driven person to everybody else and asking around until the issue is resolved. My team motivates me to educate myself and prepare to give the next person the best advice possible. So, there's my God, for he makes it possible to do management and attainment just by connecting the dots.
How has quarantine life been for you? Have you obtained any new hobbies or projects?
Cooking for sure, new recipes for a healthy lifestyle to go along with my fitness plan is always great. Also, spending more time with my family. I'm good with kids but being with my family 24/7 is a hard but exciting challenge. Currently, I'm brainstorming nonprofit ideas I will bring to light soon, and this period in time is useful for reflecting. I had so much time to re-evaluate my daily process and execute everything more efficiently.
I feel as though it's rare we hear about men and their personal care. Can you share with us the gems of your routine?
I was raised in an OCD household, so personal care and hygiene is everything. I wake up, brush my teeth, clean my body, brush my hair, shower effectively, moisturize my skin, put on various colognes to smell even better, and do the necessary cleaning routines to a degree where I always feel clean. I never want to feel dirty because the presentation is everything, and people should value taking care of themselves.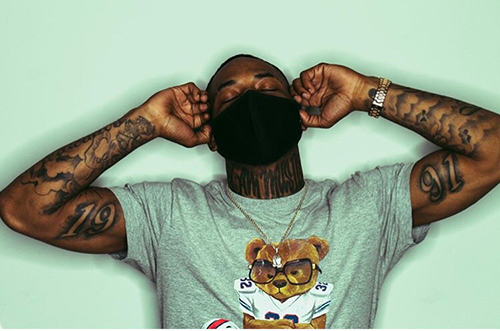 Where did the name Luchie Vibez derive from, and how does it speak to your musical sound?
I got the rap moniker Luchie Vibez at an early age, around 15 or 16. People started calling me Big Luchie or Big Money due to my different methods of entrepreneurialism. Initially, I called myself Baby Bread. After all, I was shorter than most of my peers because I was a boss. However, I hit the gym and got in pristine shape, so I wanted to be referred to as Luchie. I added Vibez to Luchie last year after I got feedback that a lot of successful artists already have that name. My music will put listeners in a certain mood, so Luchie Vibez is what I came up with, and it stuck. I'm always in the studio with people and assisting with my clients' records, so I help curate the vibes as adding it to my rap moniker makes sense.
Tell us about your new music.
Yes, I got a new single releasing May 1st called "Curb," which, unlike "Ride the Wave," it's meant to show people that I have arrived as a full-fledged music artist. My music will be solidified by this latest single. I want this single to put listeners in the mood of driving their car up to a car and seeing something that catches their eye. It's going to attract the ears of kids, women, and men from all demographics and age groups. Playing it in sample groups in the studio, everybody loves it. So hopefully, the world will do the same on May 1st. I want this single to put people in a good mood during the epidemic.
Why is it essential for everyone to listen?
My sound and brand are not artificial; they have a positive image that's built from the ground up, which I named my company Out The Mud due to that. It means so much because I didn't make it out of the situation being the only one. They're more people that have gone through what I went through. Their stories had other struggles and circumstances going on. I want people to listen to me to get inspired and realize that you can overcome anything with hard work to go along with good morals.
What's next for you?
Promoting "Curb" and connecting with the people, being in touch with my fans and new fans, and helping and motivating them to do better in their lives. When they receive the music, I want them to know who I am. I want them to be inspired to take risks in life because if I never took the chances I have made, then I wouldn't be in this position. My biggest fear in life is being an old man reminiscing to my kids about being lit at a particular time in life. My children shall see my elevate daily throughout life, so I aspire to keep moving and help my community while being the best artist I can be.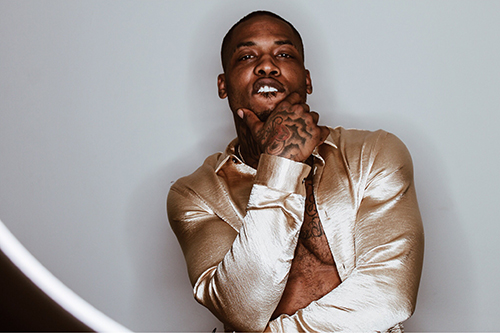 Photo Credits: Atlanta Visualz 
For more information on Luchie Vibez: