"With God in the mix, anyone can achieve their dreams."
Adrian Lockett is the perfect example of what happens when you believe in yourself and your craft. From sharing major screens with Will Ferrell and Kevin Hart to working with Hollywood Royalty Tyler Perry and Spike Lee. Lockett already has a long list of career accomplishments, and he isn't slowing down anytime soon. We've all seen him before in some of our favorite movies/shows including "Man Down" and "The Oval". With starring roles on the way, Lockett will be a household name. So, here's your chance to get to know the rising actor. 
How did you secure your first acting role?
Well, I did so much homework while working as an aspiring actor that I pretty much knew the game of Hollywood and how to move through it while coming from nothing. So, to get on the screen enough for me to be seen and recognized, it was best for me to try and book a featured role, so that's exactly what I set out to do. I ended up booking the movie 'Man Down' with Shia LeBeouf, I biked it as a featured extra. From there, I paid strict attention to every detail that every actor made in the process of the rehearsal. They rehearsed 4 times doing everything the same almost every time. I noticed a gap in the dialogue, and I realized that if I said something clever that went along with what they were saying then that could be my shot at securing my first role. So, when the actual first take started rolling my heart was beating as fast as a NASCAR going around a racetrack and as I heard the actor, Tory Kittles, say his lines and he paused the same way in that take as he did during the rehearsal. I blurted out what came to my mind, and he gave me this stern look but as a professional actor in which he is in every sense, he knew not to break character unless the director called cut! So, he looked at me and ended up going ahead with his dialogue and finishing the scene and then Shia comes over to me and Shia pretty much green lights me into saying the words I spoke, and the rest would become history. I pretty much barged my way in the industry. I had no representation whatsoever at the time. It's definitely been a journey!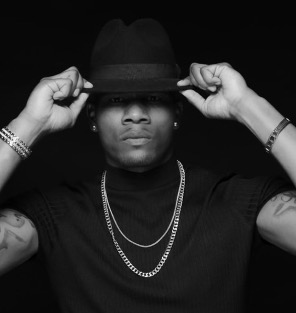 Out of all the roles to follow, which one was your favorite?
I have a new movie coming out titled 'Bid For Love' directed by a director I've grown to love a lot, Authur Muhammed, and I played the role of a well put together real estate entrepreneur Malik, whose done pretty good for himself and ends up falling for a lady from his childhood middle school only to not end up who he said that he grew up to be and blatantly feeds off of being a narcissist and is obsessed with a lady who no longer wants him. I really loved playing that character and reaching to the heights that this particular character called for.
What was your experience like filming with Tyler Perry's The Oval?
I would definitely have to say that it was quite the experience. I was living out in L.A. at the time and going to school full time at the New York Film Academy Los Angeles campus and I received the audition. I immediately wanted to give it all that I had and put my best foot forward, so I hired an acting coach and she also self-taped me for the role. She gave me some of the best pointers and I listened and applied the energy and the next thing you know I was offered the job. It was an amazing time being on that property and that set. The energy is so electrifying and robust. Tyler Perry is just the same as he comes across on screen, on social media and in person. The waiting rooms for the actors are some of the most comfortable ones that I've ever had the chance to grace. I have nothing bad at all to say about Mr. Perry, I really appreciate that opportunity. He's definitely world class.
Fans are waiting to see more of you on television and films. What can they expect before the year ends?
Before this year ends the movie 'Super Turnt' will be coming out. I play one of the lead roles of a hardcore battle rapper name Juug who is always up to no good in the sequel to director Mann Robinson's Turnt! It tells the story about black-on-black violence and how it affects the community and how it's a never-ending circle. It stars Jamal Woolard, Che Mack, Torrie Hart, Melanie Halfkenny, and a host of other great actors.
You're solidifying your spot as one of the greats in Hollywood. What steps are you taking to perfect your craft? 
One thing about acting is that you can never learn too much, there is no such thing, so I always have my head in a book, listening to audiobooks, searching the ways of my favorite philosophers, and always watching the actors I admire the most and paying attention to how they move and how they carry a scene and then I'll take that and do it my way. I always audition, the brain is a muscle so every chance I get to take a challenge to make it expand more, I do it. 
All images provided by The Jamison Agency