Rising star Indica Jones, a.k.a. NDKA, found the inspiration behind his new single "Miracle" after he witnessed an impassioned crowd of Los Angeles protestors fighting for justice in the wake of George Floyd's untimely death. What stood out to the North Carolina native most was that the Black Lives Matter movement had single-handedly united people of different backgrounds, races and ages in the fight for equality. "It was a miracle," he recalls.
During those heated moments amid the pandemic, the City of Angels lived up to its name. "Everyone came together for change and to speak out," NDKA adds. It was those intense protests that led the artist to release "Miracle" in efforts to further voice the nation's outcry.
"Music has always been an important part of my life," he tells Sheen. "It's my way of expressing myself to the world and connecting with people. In 'Miracle,' I just want people to feel togetherness, happiness and that they are heard and understood. It's about standing up for your rights and seeing people fairly treated," NDKA says.
The innovative artist understands the importance of freedom and equality firsthand. That's why he wrote "Miracles" and "Hear Our Voice," two tunes that emphasize "using your voice to promote justice."
"Miracle" — which NDKA is proud to say combines African drums with Rock & Roll guitar while mixing pop flair with R&B and gospel — has already proven successful with more than 20 thousand streams on Spotify and Apple Music. The rising star's charismatic energy is expressed in his music as he tackles issues faced by listeners worldwide that transcend race. NDKA is thrilled to create universal music that speaks to both the heart and soul through authentic lyrics and his unique sound.
NDKA opens up to Sheen about his newest release "Miracle." The musician also speaks about his mission to unite the world, promote positivity and much more.
People from all backgrounds, races and ages say that your music makes them feel understood, happy and together, especially when they hear "Miracle." How important is it for you to create music that makes people feel like they are being heard? 
I wrote "Miracle" from a place of healing and positivity after what I experienced during the Los Angeles protests for George Floyd's death. I wanted to promote happiness and bring people together with fun music that isn't sad. This song is about standing up for your rights and seeing fairness and equality. It was important to replicate the unity and togetherness that I felt when I was inspired to write this song during the George Floyd protests. 
You performed at L.A. Fashion week, how exciting. Critics say your innovation and style give you a competitive edge that sets you apart in a market oversaturated with talent. How have you been able to use innovation and style to create distinction that matters?
Performing at L.A. Fashion Week was definitely one of the biggest highlights of my career. People look to Hollywood and the creatives in Los Angeles as icons, trendsetters and fashion experts and I knew this would be a great opportunity to showcase my personal style as an artist. I like to shop in vintage stores for one of a kind pieces. 
You created your own genre of music called NDKA. In what ways is this genre of music both innovative and impactful? 
I try to be innovative with my music by using sounds that wouldn't usually be put together. In my latest hit "Miracle," I used African drums, pop base and a Rock & Roll guitar to create a unique sound and new energy. I really pushed boundaries with this song because it intersects pop with R&B and gospel. We pulled all of these elements together to create one overall sound that would be enjoyable to people of different backgrounds. 
What do you want your legacy to be?
I want my legacy to be that I stayed true to Indica Jones and the freshness of my brand. The NDKA genre is based on innovation, social impact and music that makes people all over the world come together to dance, have a great time and enjoy one another's company care-free and unapologetically. I want my legacy to be that I made music and lyrics that everyone can relate to around the world.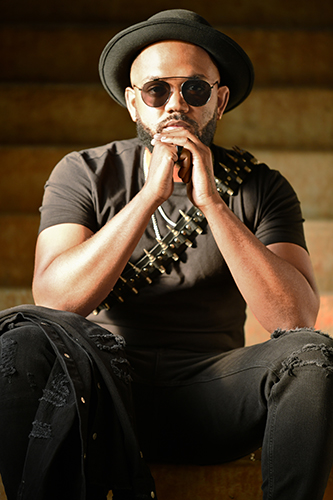 Follow Indica Jones a.k.a. NDKA on Instagram for more.
This feature was submitted by Jessica Dupree and edited by Darlene Aderoju
All images by Robert Litomisky