Baltimore native, Roc Writah, popularly known as Rapper's Favorite Rapper has surpassed many of his own personal goals in the world of entertainment, but it appears he's dabbling into a new space – the fashion world. With the release of his brand new designer shoe brand, we're all able to see a different side to the multi-creative and his true eye for fashion. In our exclusive interview with Roc, he opened up to us about the launch of his brand, his hometown of Baltimore, and much more!
Tell us about the launch of your designer shoe brand.
This is a very personal collection of mine. I just wanted to do something for my great grandparents. Recently, I lost my great grandfather. My great grandmother is still here. I wanted to find a way to show her that she is appreciated for everything she's done. She is the matriarch of our family. The shoes are called Bartlett and the edition is 600. That gives ode to my neighborhood. I grew up on Bartlett Avenue, the 600 block. That was something I wanted to do to dedicate to them, outside of music.
What has it been like preparing for a launch during the ongoing pandemic?
Well, the crazy thing is that the shoe is unreleased right now. The only people to have a hold of them are people that have direct ties with me. This shows them what I'm working on and I get a feel about how they felt about the shoes and comfortable they are. They aren't live to the public yet, it's just something personal, but it should be coming out soon. As far as music wise during the pandemic, I connected with my followers through opening forums and a place on my website for people to comment and share their thoughts. When we release videos, we always do a premiere so people can respond to real time. I'm able to see their reaction in real time and connect with them in more ways than none. I work in IT, I've been in IT since I was 16. Luckily before the pandemic happened, I always my eyes and ears open for what's next and I was moving in the remote way of living. I've always implemented those in my strategies.
Where did the nickname "Rapper's Favorite Rapper" come from?
(Laughs). I haven't called myself that in a while. That was something that was done on a miniscule level. It's a local thing, if you know, you know. I've heard it from people in the Baltimore and DMV area. They recognize who I am and love the music. I may not have all of the accolades that other artists had, but that respect I have from people is where it came from. The love is there. That came from a place of knowing who I am, always pushing forward, and knowing that there are people that are watching. The industry knows what's going on with me and it lets me know that I'm moving in the right direction.
Why are you so passionate about inspiring the youth of Baltimore?
They're next up. Everything I do, I think about the ones coming up after me and how I can impact them. Even jumping in technology, I help with the Baltimore school district to ensure they have the latest technology and are properly trained. It's important for me as a person. There are always eyes on us. When we get national press for Baltimore, it seems like it's always in a negative light. It's important for me to show that there are outlets out here and ways to go about things. You can accomplish your dreams, no matter how wild they are. I was one of them before. I was trapped and having people to go to helped me tremendously. It's bigger than Baltimore.
What can we expect to see from you in the rest of 2021?
Pieces the album is out right now. We are rolling out more visuals. I have two more visuals coming right before New Year's. Look forward to that, I'm ready to start the next quarter out right. Of course, the shoes are so personal to me, I can't wait to introduce it to all of you.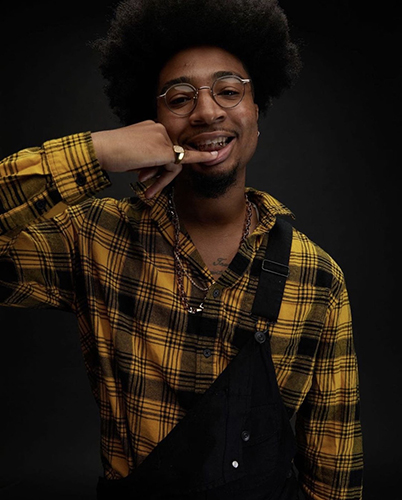 For more on Roc Writah, click here.
Follow him on Facebook, Instagram, & YouTube today!
All images via Soundcloud | provided by THE DMV Daily