The music industry is a vast array of sounds where you can just about tune into anything that fits your mood. With the sudden impact on the world with the fears of Covid 19, you need some inspiration to get through these times of grief and despair.  RJC Productions is a label dedicated to delivering inspirational gospel music with a goal in mind to unite people from all over the world through various genres of gospel and inspirational music. This company aims to give people the ability to showcase their talent because after all, music itself is not only therapy for the soul but it is a ministry. I believe we all can reflect back on gospel songs that helped us through our toughest times like these times today. 
CEO of RJC, Ronald J. Crichlow reflects back on his early encounters with music.
"I learned how to play the drums at the age of 14. Because I wasn't really serious about playing, I never really truly developed my talent and therefore gave up playing the drums. Sometimes it's funny how life chooses your path. Many years later, I was approached by the church musical director named Joan Marshall. She wanted someone to play the drums while she played the piano during church service. I told her "No, I don't play the drums anymore." However,  Joan was very persistent. She wouldn't take no for an answer even when I told her I didn't have a drum set. She even came up with a way for me to acquire one."
As life would have it, what is destined for you is destined for you. As time went on he soon started a gospel group. 
"Through divine intervention, we expanded the group with two exceptional musicians. Bass player Randy Parkes and Guitarist and Singer Billy Arrington. Our group evolved when we added Singers. Especially when we added the powerful voice of Tisha Hunter. Following the light of God gave birth to the group RCE Gospel!"
Things for Ronald and the group really began to flourish, leading the RCE Gospel group on too much success to include being placed in two categories for the Grammy Awards!
"Creating a unique sound and energy, with the help of my sister in law Robin Dunn, RCE became a show in itself. The dance routines were just as unique as the music. After receiving rave reviews, I decided to make a CD. We recorded the CD "The Path" and submitted it to the Grammy Awards for Consideration. To our surprise, we were balloted for two categories. One was best New Gospel Group, and two was best Gospel performance for a song. Tisha Hunter was balloted for her rendition of Comfort Me. Many engagements preceded this event. Numerous appearances on The Chew on Channel 7 ABC. As well as the Oz Show. Eventually, RCE Gospel disbanded, and once again, I thought my musical career had ended. But God had his own plan."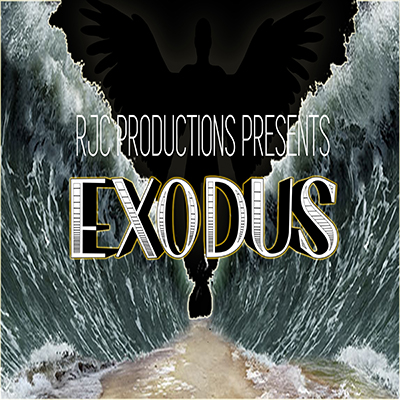 To his surprise the band ending was not the final destination for RJC, the name would soon go on to become its own record label company. 
"Three years later, I received a phone call from a former Sunday School Student and nephew of a close friend. Brian was now a Chief Executive of Orchard Sony, a branch of Sony Records. Orchard Sony was interested in getting into Gospel music. Brian heard that I had a Gospel Group with a CD. He asked me to send a copy of "The Path". He liked it. He gave me a choice, submit 1 or 2 songs from The Path to his CD or start my own record label. He would provide a distribution deal and my CD would be worldwide. RJC Productions was formed. I acquired the services of Linda Johnson and her husband Thomas Johnson. They provided me with many Gospel artists and singers to choose from. Three months later, "God Reigns and the Son Shines Genesis" was produced. Sales were not good. We didn't promote our CD effectively. However, I was not discouraged. We made our first Christmas CD "RJC Productions presents Songs of Christmas." This time, I hired Orchard Sony to promote the CD. Sales were better. Not as good as we had hoped, but better. We were moving in the right direction. And now, RJC Productions presents its third CD "God Reigns and The Son Shines Exodus." This CD will put RJC Productions on the road to success. Exodus was released March 1st, 2020."
There are many benefits of being signed to a record label that some independent artists may not be able to encounter for the success of their careers. Yet this is only in most cases because with everything being digital today, artists can increase their sales faster and easier.
"The benefits for being signed into a label should provide promotion and distribution to an artist. An independent artist, in most cases, will have trouble providing these two essential components to their careers. With everything digital today, artists have an easy way to reach their fans and followers. Being able to purchase and download songs allows artists to sell their songs with ease. People today want easy and fast. Making sales better. Selling CDs out of the trunk of your car is long past." – RJC
If you're in the market for a great record label to become family with then make sure you do your research on that label and be mindful that an opportunity to be signed to one is golden for you as an artist. 
"Any Artist that has a chance to be signed to a label should take full advantage of the opportunity. Provided that the label is real. That they have access to a lot of items required to promote an artist. As well as the label should be able to provide easy access for the sale of the artist's material. I look for an artist that is very talented with outstanding ability.  Also, a hard worker and willing to do whatever is necessary to promote their song. I don't want any lazy artist."– RJC
RJC Productions continues to thrive as a successful company for inspirational and gospel artists. Anything in life that is truly destined for you will happen if you keep the faith and keep moving forward.
Be on the lookout for music from Artists with RJC Productions such as Bashir Hogue "Celebrate," Christina Morgan-Diaz "I Need More," and Chanique Rogers "I Can."
For more information on RJC Production, click here!
All images courtesy of RJC Productions