Samantha Dorisca is a 24 year old, confident storyteller. As a young child, she would write novels as a pastime, unknowingly planting the seeds that would blossom into her future career path. Growing up in a Haitian household, inspired her to tap into her artistry early on. She is a purposeful narrator who uses her pen and lense to bring to light impactful stories centered around the Black community. She is currently working as a writer at AfroTech with over 100 articles under her belt.
What inspired your interest in media and tech?
Reportedly as little as 7.4% and up to 14.4% percent of the Black community make up the tech industry so it is evident the community is underrepresented and underserved in the tech sector. By highlighting individuals who are powerhouses and lighting a path through these stories it is encouraging our community to tap into the tech field because our presence matters, our presence has value, and instilling this spirit into future generations can lead more within the Black community to take root in the industry. This impact inspires me to continue writing, knowing there is Black excellence circulating within our community, encouraging not only myself but so many more. I am grateful that my work is inspiring future leaders and I hope it will spearhead a greater push for Black involvement in tech.
Can you share a few of the most profound stories you've written on?
One story that comes to mind was a recent interview I held with the Google Image Equity Lead Florian Koenigsberger and Image Expert Zuly Garcia to discuss how they built equity into the Pixel 6 and Pixel 6 Pro with 'Real Tone'. This story resonated with me because not only am I a writer, but I am also a photographer. Photography has had a hidden bias when it comes to the technologies capturing people with darker tones which dates back to the early 1940s, when at the time the point of reference that technicians were using for features such as exposure and hues to name a few were based off Shirley Cards. This was problematic being that it appealed to people with lighter skins neglecting people with darker complexions, so having an opportunity to speak with Google to hear how they are working to combat technological bias meant a lot to me as not only a photographer but a Black woman who is striving to honor the beauty of my community through these technologies.
Secondly, one of my favorite feature stories highlighted a Houston-based hairstylist by the name of Salma Ekambi. I was captivated by her showcase titled the KNKY Hair show which is an ode to Black beauty inspired by the 1997 classic film B.A.P.S. Speaking with her I also learned she hosts events as a part of the Black History Project which is free to the public and provides an opportunity to highlight impactful people within the Black community who are pushing the culture forward. Her purpose work resonated with my spirit because it was a reminder of why these stories are so important to write because there are incredible people and spirits out there in the world with a fruitful narrative that are ready to be heard by the world.
Any tips for how an emerging storyteller can develop their specific voice, perspective or writing style in media?
My tips for emerging storytellers are to know they do not have to create a barrier between writing and their authentic selves. You can still show up as you are through the gift of storytelling. I remember early in my journey as a writer, I sounded very technical because I was scared of how my words would be perceived if I added my voice but with a reminder, great storytelling is not found within the logistics but rather in the boldness of showcasing your personality which will enrich your storytelling and separate you from other writers who may have written the same or similar story.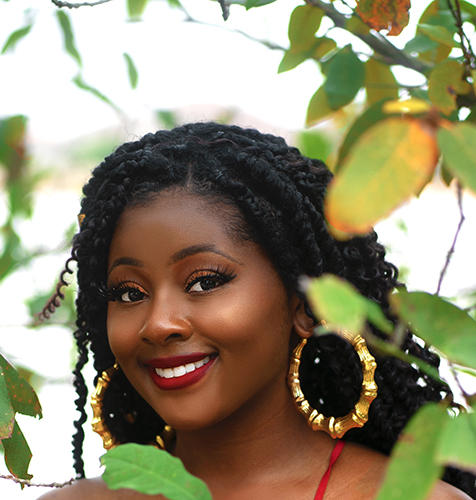 What is next for you in 2022 and beyond?
For 2022 and beyond you will continue to find me highlighting individuals in the Black community who are transforming the lives of our community. One day I plan to hire talent to create media spreads where writing and photography will intersect with different themes in each issue. Similar to the Met Gala, readers could look forward to unexpected fashion each issue with special features from individuals capturing them in a revolutionary manner that has not been done. Lastly, you can and will always find me nearby my camera capturing Black beauty through my lens and I hope to have a creative team where we are launching projects together similar to my most recent project in collaboration with creative director Faith Ehioghae titled 'She Stood In Grace'.