Healthcare technology company, Veriheal is on a mission to change the way you look at cannabis. Co-founders Samuel Adetunji and Joshua Green merged wellness and cannabis education so that people around the world could connect with doctors online through their platform to receive recommendations for living a healthier life.
Tell us about the inspiration to create Veriheal.
Samuel Adetunji: A number of events fell into place for Veriheal to come into being. Josh and I both tried to get our medical cards in DC when the program started. It was a stressful experience, to say the least. Doctors were hard to reach, the receptionist didn't know the regulations or what was available… the list went on. That essentially left us to figure out the program on our own without any guidance. Right then and there we saw the huge need for a service that could streamline this entire process and deliver up-to-date content that patients could easily digest and leverage for their own well-being. Also, for me personally, I saw my father battle with cancer, and it was painful to watch. We were able to get him some RSO and within a matter of minutes, he was back on his feet and actually eating again. That was the moment I saw the true potential of this plant.
How were you two able to merge together cannabis and technology to create your company?
Samuel Adetunji: The company started as a website and a scheduling platform for doctors to manage their patients. We even integrated video consultation capabilities early on so that doctors could see their cannabis patients via telemedicine. With all of this, the security of our platform became increasingly important. Thus, we had to scale our security and development teams rather quickly to continue to abide by all HIPAA regulations. As we grew and expanded into more states, we had to continually optimize our processes to make the user experience as seamless as possible. That's where we are now. Our platform signs up thousands of new patients every single week. Doctors and patients have hundreds of telemedicine consultations each day. It's all on the Veriheal platform.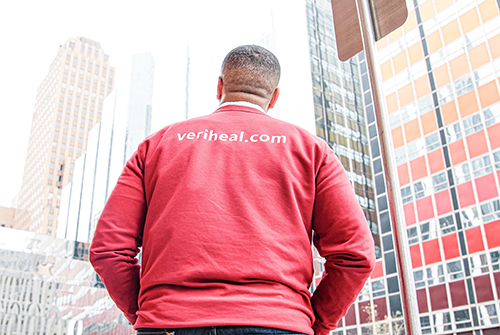 Can you tell us about the Scholarship for Cannabis research?
Joshua Green: Giving back has always been a big piece of Veriheal. We host regular Trash for Trees events and currently donate a percentage of every sale to the Wounded Warrior Project, the American Cancer Society, the American Liver Foundation, the Alzheimer's Association, and the Tourette Association of America. Our team is very proud to be able to offer this scholarship, especially at this time when there is an increasing number of students that could use the support. The scholarship is open to students currently enrolled in a U.S. university and isn't necessarily limited to just cannabis research. Since the opportunity will have more than just one winner, we've opened up the doors to the likes of business students, medical students, designers, artists, and really anyone that we see a spark in through their essay. The industry needs to continue to move forward and there is so much potential in ideas that can be created by students. I would encourage any college student that is interested in cannabis to apply for the scholarship.
What can we expect to see from Veriheal in the future?
Recently we've launched our Personalized Cannabis Consultation service. This gives the opportunity to anyone across the nation, no matter what the regulations are in their state, to take a deep dive into cannabis with one of our professionals. It's strictly educational and for information purposes, but thus far our customers are loving it. Our coaches will assess a user's specific ailments and help them create an action plan and proper guidelines to follow when they do ultimately get to try cannabis. This could range from someone that needs some CBD cream for their joint pain to the person that needs a specific strain and cannabinoid profile to set their mind at ease. The sky's the limit here and since we are all different, we each have very specific needs. We are here to bridge that gap and provide each and every person that is curious about cannabis with the individualized care that they deserve. This is where we future of cannabis is going, we're thankful to be a part of it.
For more information about Veriheal's Personalized Consultations, click here!
For more information on The Scholarship for Cannabis Research, click here!
All images courtesy of Veriheal