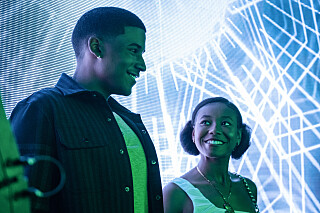 We all know and love Sanaa Lathan from the iconic film Love & Basketball, but now she's putting on her director's shoes. Presented by Paramount+, On The Come Up serves as Lathan's directorial debut, but nothing resonates more than the meaning behind the film. In fact, it's even been described as her "love letter to hip-hop."
The film chronicles the journey of 16-year-old Bri, who is an extremely talented rapper who started out battle rapping, before discovering her talents in a professional recording studio. It seems like talent runs in the family, as Bri carries on her late father's legacy — a rapper named Law who's life was taken due to gang violence.
After watching the premiere of the film at Snoop Dogg's compound in Inglewood, some were left in tears while others laughed uncontrollably. 
Sheen Magazine had the pleasure of attending the virtual press junket for the film, speaking with Sanaa Lathan, Jamila Gray (Bri), and Angie Thomas. Thomas is the author of the best-selling novel the film is based on.
Jamila Gray (Bri):
What does it mean to star in this amazing movie?
I feel so blessed to be a part of something that is just led by Black women, written by Black women. Angie Thomas is such an amazing writer. The things that she has in her books always translate well on screen. They're things that everybody needs to hear, that need to be talked about. I feel so blessed to be able to play this role, I really do.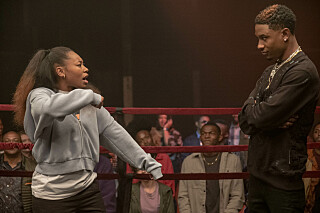 Did you have to learn how to rap?
I had a little bit of rap experience prior. I grew up on hip-hop. I have one song out right now, but I'm actually a DJ on the weekends so I have a very heavy music background. Battle rap is a little bit different, so I did have to study a lot of that to really portray that culture accurately.
How did you prepare for this role?
There were a few things I did. I did a lot of emotional preparation and really understood what Bri might be going through. I also did preparation as far as music. and I had Rapsody really help me out. She's amazing. She's a genius. She taught me about mannerisms, about my voice and tone. Because my voice is up here, but Bri's register is down here. It was really fun being able to transform. I had a whole playlist of classic hip-hop that I listened to every single day. 
Do you have a favorite scene?
Oh yeah, definitely the final battle is my favorite scene. It was so amazing to live in that moment. The rap was so well-written and it summed up what my character was going through and I really felt like a vessel that day. 
If there's one thing you want people to take away from the movie, what would it be?
Be true to yourself. Use your authentic voice and know life may make you act out of desperation. Never compromise your integrity. 
I was at Snoop's compound for the premiere. I was in the studio with Snoop and Warren G after and Snoop couldn't stop raving about the movie!
He was crying! I loved it. I love that he was crying. I love that it connected with him. He's been a champion of mine since the beginning, we have mutual friends. When he found out I was doing this movie, he said "anything I can do to help you." It came full circle when we did that screening last night, I loved it. 
How did it feel to get this positive feedback?
It's something that you've been working on for a long time, put your heart and soul into it. It's the best feeling to know that people are resonating with it. That's what you do it for, right? I want to entertain people. I want to inspire people. I'm happy that the movie's connecting. 
I know it's a love letter to hip hop for you, right?
For me, it's a love letter to all little girls. It's a love letter to young people and the letter states "step into who you really are." That YOU are enough just because you are alive. That is really what it's about, and it's set in the world of hip-hop.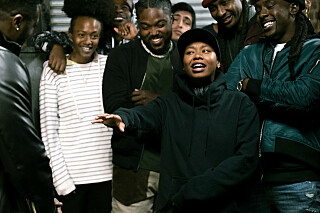 Love & Basketball is one of the most iconic movies. How does it feel to go from starring in that to now directing your own movie? Talk about full circle.
Yeah, it's so full circle. I don't think there's a mistake that actors make good directors. Especially when you've been in the business for so long, you've been on sets probably more than a lot of directors. You learn by doing, and actors have vision. They have that vision that you need for a director because they are crafting the art of their own character. For me, it was a natural progression. 
If there's one thing you want people to take away from the film, what is it?
You know, everybody brings themselves. They bring what they went through that day, that week, that year. They bring themselves to the theater and what you get from the movie today will be different in a month. I want them to bring their full selves. There's so many different messages, things to think about, talk about. I just ask that people come and bring themselves.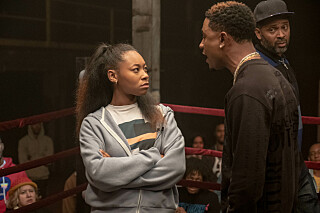 Bri is such a firecracker, even Snoop was saying how much of a star she was. How did you find her?
You know when you have this script that Bri is going to be everything, the person who you choose for that. They had already started the audition process before I came onboard because there was another director attached that fell out. I found her in 200 audition tapes. They didn't have the budget to audition anymore so I said, "let me see the tapes." She had never gotten called back. She had auditioned six months before. I saw her tape and said "who's that?" Because there was something that made you want to watch her. An energy, a feeling. We brought her in to screen test and the rest is history. 
Angie Thomas (author):
I had the pleasure of watching the movie at Snoop's compound last night, everyone was raving. Snoop even cried.
Oh wow! That's amazing. I'm such a huge fan of his, so to hear that, that does my heart so much good. 
How does it feel to see your novel come to life on the big screen?
It's amazing, then to hear the reactions to it is also amazing. There's no feeling like walking onto a movie set and seeing all these people bringing to life something that started in your head. It's a humbling experience. To see it in real life, it's amazing. Knowing that every single person that was a part of this process, from top to bottom, loved the story and brought so much love to i, that's reassuring. That's what you hope for as an author whenever your work is adapted. I'm thankful, I'm blessed, I'm humbled, honored, all the words.
Do you have a favorite scene from the movie?
I love the scenes where Bri is home with her family. One scene especially is the one where she, her mom, and Pooh are cooking and sharing memories of Bri's dad. That's such a nicely done scene. It's so subtle, but you feel the love there. You also feel the grief and the hole that's missing from her father's absence. But then you feel the love that her mom and her aunt have for her, how much they believe in her. 
Also too, the battle rap scenes where Rapsody wrote the battle raps. I absolutely love Rapsody. She's one of my all-time favorites. When they told me she was doing the raps, I lost it. Towards the end, Bri's last rap, Rapsody, named some of my books in the rap. It blew me away, I love the battle rap scenes.
She named your books in the rhymes?
Yeah! She mentioned something about The Hate You Give and Concrete Rose in the rap. 
Photo Credits: Paramount Press Express