History-making not once but twice, Santia Deck makes moves on and off the field from signing a multi-million dollar deal as the highest-paid professional female football player just a year ago to coming back becoming the first woman athlete to own a sneaker company. There is no stopping Santia Deck, her hard work, determination, and resilience speak for itself. We here at Sheen are excited to share Deck's history-making journey in this exclusive.
What does it mean to you to be the first woman athlete to own your sneaker company?
It means a lot! I'm definitely grateful and thankful for this opportunity that God has given me to leave a legacy!
Tell us about your shoe company. What do you hope customers feel when supporting and wearing your shoes?
TRONUS means "Throne," which represents royalty. My personal brand is "Queen of Abs," so it went hand and hand.  When you wear these shoes you will literally feel like you are walking on air! They are super light and comfortable!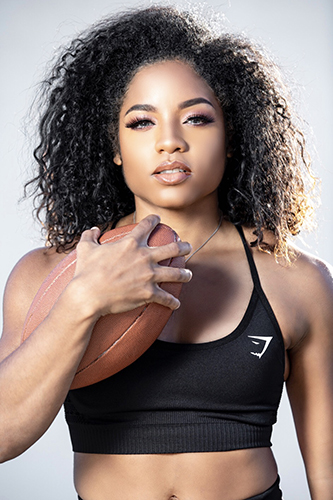 As an athlete and businesswoman, how do you juggle the two and what advice do you have for people that are looking to expand their brand?
I have an amazing team! I couldn't do what I do without them! They make this all possible! I would recommend anyone who wants to expand their brand to get a team ! Your team is your backbone!
You are very accomplished as an athlete and a businesswoman. Why is versatility/investments so important to you? Do you have any advice for readers that are hoping to venture out into business/investments?
I believe that the only way to build generational wealth is to have more than one stream of income! And make sure you own something! Ownership is key!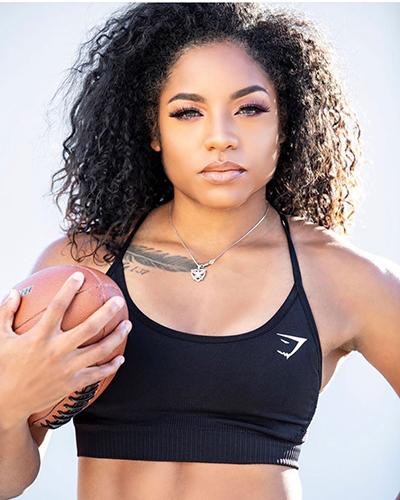 When creating your shoes, what was the creative process like? Was it harder or easier than you expected?
It was amazing! My designer got the design down in one try when I explained to him how I wanted it to look. So, having someone as talented as him in my corner made the process pretty easy.
Has owning a shoe brand been something that you always knew you wanted to pursue?
I always knew I wanted my own shoe, but I didn't know it would turning into my own shoe company.
Who inspires you in the industry of sneakers?
Definitely MJ!
For more on Tronus, click here.
All images by Jeffrey Mustache