LOS ANGELES, OCTOBER 3oth, 2023 – Today, Sean "Diddy" Combs unveils the trailer for movie "Off the Grid"  bringing to life the concept of his chart-topping R&B masterpiece, "The Love Album: Off the Grid."
"Off the Grid" embarks on a journey, capturing the essence of escaping with a romantic lover into a world free of distractions and communications; it's about immersing oneself in love with no phones allowed. The movie encapsulates the whirlwind of romance, infused with passion, drama, and the enduring spirit of love, while the unfolding drama on screen is underscored by powerful music, amplifying the impact of each scene.
The film features Ugandan actress Eva Apio in her acting debut, exploring the turbulent journey of a budding romance and the enduring spirit of love. Apio, a London-based actress, supermodel, and philanthropist, stood out among hundreds of auditioning leading ladies, chosen by Combs after a rigorous three-month casting process.
"Working with Eva Apio was an incredible experience; her talent and energy brought my vision to life," said Diddy.
Directed and written by Combs, "Off the Grid" is a filmic embodiment of the love story from his #1 R&B album "The Love Album: Off the Grid." This project stands as a testament to Combs' creative genius, his ability to innovate, redefine boundaries, and captivate audiences in multifaceted ways. The release marks Combs' 8th acting role in a movie and his directorial debut.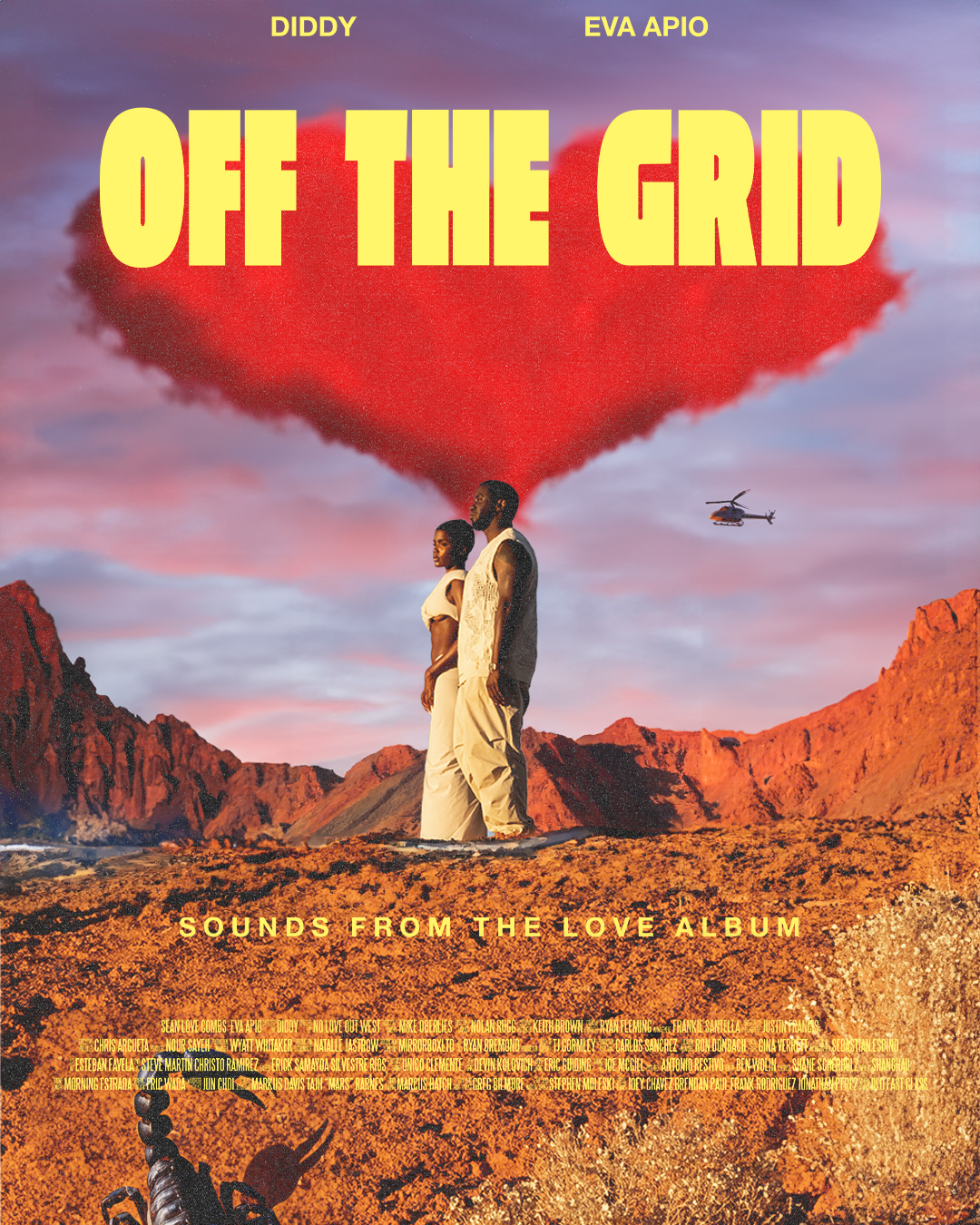 REVOLT FILMS is the film and television production company founded by Sean "Diddy' Combs. Past credits include the critically acclaimed documentary, "UNDEFEATED," which won an Academy Award for Best Documentary Feature in 2012, DOPE, which was nominated for the Grand Jury Prize at The Sundance Film Festival, and Lawless, which was nominated for Palme d'Or at Cannes Film Festival and won the Hollywood Film Awards. REVOLT FILMS currently has six feature film projects and three TV programs in various stages of development.
LOVE RECORDS
Love Records is an all-R&B label dedicated to creating timeless R&B music with the next generation of world-class artists, producers, and songwriters. Founded by Combs in 2021, Love Records represents a shift in R&B anchored in collaboration and artist partnerships. Grammy Award winning, multi-platinum singer-songwriter Jozzy is the first artist to be signed to the label and released her "Songs for Women, Free Game for Nxxxas" album in February 2023. Love Records released Combs' The Love Album: Off The Grid September 15, 2023.