Hailing all the way from East Flatbush, located in Brooklyn, New York. Meet Entrepreneur, CBR Podcaster of Secrets of the Sell, Founder and Licensed Real Estate Broker of Jaymore Realty, Nadine Morency-Mohs. Far from her humble beginnings of growing up in East Flatbush, Nadine is proof that with consistency, drive and determination you can manifest your dreams into reality. In 2019, she sold nearly $10MM in residential sales in Brooklyn, Queens and Long Island. With a career spanning almost 15 years in the industry, this veteran is a real estate giant that doesn't just sell but serves her community too.
As a leader in her community, Mohs says when NYC Mayor Bill de Blasio announced the elimination of the Summer Youth Employment Program for 2020 Summer she quickly kicked into action by contacting her co-organizers Tim Turane and Betty Aristide, to form Bridging the Gap for our Youth.
"Since creating the youth organization we have been so grateful to mega publicist Yvette Noel-Schure, and Tammy Jones (Founder of Basis Investment Group Real Estate Commercial Lender), and so many more who have all agreed to meet and give words of encouragement to the youth," says Mohs. "Ralph McDaniels founder of Video Music Box, also has acted as a mentor to me since I presented the Bridging the Gap initiative."
"Margaret Bouhairie-Martinez and Sunshine Smith-Williams were also very instrumental and are weekly guest speakers for the financial literacy courses," she says.
Nadine says with Bridging the Gap for our Youth organization they are able to connect the youth with employment, internships and mentorship opportunities for the Summer.
"One of the young ladies who attended our Brooklyn event needed a scholarship to pay off the balance of her Summer school at Brooklyn College so she can return in the Fall with a zero balance," she says. "Unfortunately, her father passed away due to COVID-19. Thankfully, we were able to write a $743.00 scholarship check to her from the funds we received from the founder of National Standard Abstract, Osei Rubie."
Nadine's expertise, attention to detail and willingness to provide clients with the necessary tools and advice, has earned her the spot amongst the elites and NYC's top-tier realtors you want by your side when purchasing a new home. Sheen had a chance to catch up with the Business Woman herself to discuss why she joined the real estate industry, purchasing a home during COVID-19 and tips for aspiring real estate professionals. Check it out in this Sheen Exclusive!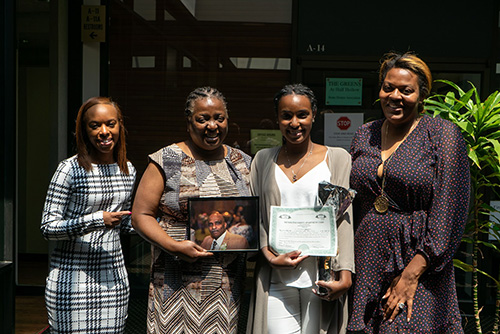 What inspired you to go into Real Estate? 
My inspiration for starting a career in real estate were two things. First, growing up in a one bedroom apartment for the most part of my childhood years. I always wanted to live in a house. While my father was a homeowner and I visited nearly every weekend I always wanted my Mom to be a homeowner too. So, one of my first goals when I became an adult was to become a homeowner.
I became a homeowner at the age of 25 with the help of my father. My second inspiration was when I  embarked on my search for a home, I didn't find a realtor that took me seriously because of my age. 
I made a vow to myself that I would enter the business and be different. When people come to me with questions about the process, I give them a few minutes of my time by highlighting what the first steps are to purchasing a home.
Do you recommend home buying during COVID-19? If so, why? 
This is an interesting question. The simple answer is Yes!!! Several things happened during COVID-19. First, the interest rates are still at an all time low. Anyone who is not a homeowner should be considering and exploring homeownership opportunities especially during COVID-19.
Every time I turn around another listing has returned back on the market because buyer's circumstances changed since COVID-19, so it gives others opportunities to purchase those homes. Many retirees are downsizing and relocating so they are putting their homes on the market. Therefore, this creates opportunities for first time homebuyers. 
Although, many people lost their jobs and are relocating to more affordable states. This creates opportunities for buyers with the means to purchase. Unfortunately, while many families lost loved ones due to COVID-19, opting for smaller spaces or seeking outdoor space with their next home after being in quarantine for three consecutive months, all of these factors contribute to the increase of many families selling their homes. There are so many different scenarios and this coupled with the low interest rates is creating the perfect storm and opportunities for prospective homebuyers.
What have been some of the results from Bridging the Gap for our Youth?
I am in awe about the initiative! The amount of collaborative efforts and partnerships, job placements, mentorships, internships have been amazing and we are all striving to do more for our youth. In August, we placed fifteen youth into the Summer Youth Employment Program and six youth into the Queens Defenders project; a paid opportunity and exposure into law enforcement. 
We have held several fundraisers for local businesses, offered scholarships and we are currently hosting once a week financial literacy workshops for the entire month of August. Since June when we began this initiative, to date we have placed nearly 60 kids with paid employment opportunities.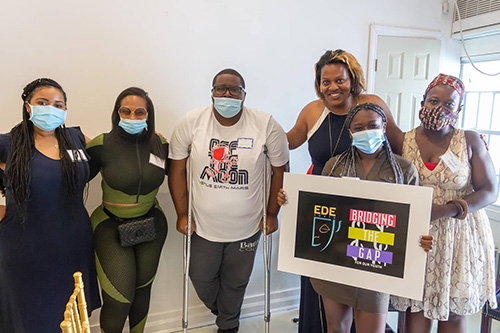 What tips or encouraging words would you share with someone looking to make real estate their career?
I always tell people when they ask questions about pursuing a career in real estate- don't just pursue it for the money. This business is all about relationships! If you can effectively build relationships, trust and add value with your clients; they will value your expertise and send you referrals. Noone wants to feel like they are just a number. 
I also tell people when you watch these reality shows about the lives of realtors, what you don't see is a glimpse of someone's journey in 30-60 minutes. This is an amazing business/industry for anyone to pursue. However, be sure you are doing it for the right reasons and not idolizing someone else's journey. We all have gifts and we must apply it to our own path.
Do you have a favorite quote or affirmation that's kept you motivated throughout your career? 
I love affirmations and quotes but the one thing that has kept me motivated and disciplined throughout my entire career is- prayer! Without God I can't do anything. Through Christ that strengthens me, I can do all things but fail. The trials and tribulations I have been through in this business I can look back and say, that was nobody but God.
What can our readers expect from Nadine Morency-Mohs in 2020 or 2021? What's next? 
I can be very spontaneous and unpredictable so I don't have a definitive answer. However, I can affirm I will go wherever God leads me, especially in these times. Everyone had 2020 goals and look where we are now. I think it's becoming more apparent that we can "Goal Set" all we want; but if God has a different plan we must continue walking in faith, trusting him and taking life day by day. 
So, what are you waiting for? Contact Nadine today and be one step closer to your dream home!
Stay Connected
Instagram | Facebook | Linkedin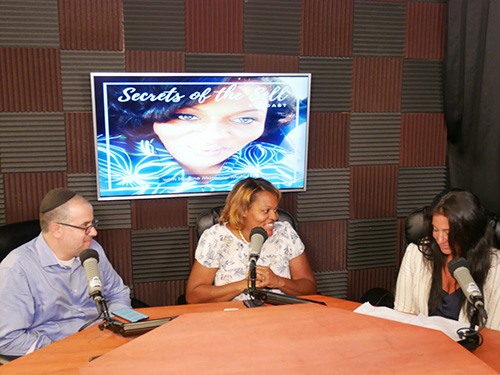 All images courtesy of Nadine Morency-Mohs