26-year-old, self-taught designer, Claude "Lavie" Kameni is a woman on the radar in the worldo fashion. Her fashion brand, LAVIE By CK has been showcased on big stages and red carpets all around the world! Celebrities such as Tracee Ellis Ross, Janet Jackson, and many more big names in Hollywood have been spotted rocking her custom designs. In midst of our current pandemic, Claude took it upon herself to use her platform in order to help those hard at work on the frontline of COVID-19 in a unique, yet fashionable way. We caught up with the young, aspiring designer to discuss her brand and much more!
Tell us about the inspiration to create your brand, LAVIE By CK.
The inspiration to create LAVIE pretty much comes from West Africa. I'm West African, from Cameroon. My background of creating gowns is doing prints from West Africa and the tribes. That's where most of the inspiration behind my designs come from.
You've recently created a creative and trendy face masks in midst of COVID-19. With each purchase, LAVIE donates a mask to a hospital. Why was this so important for you to do?
It's very important for me to do this because I see a lot of frontline workers suffering. One of my friends is a frontline worker. She explained everything that was happening and that they don't have enough masks. It was important for me as a designer to use my God-given talent to help others during this time. In the beginning, I took my own money to purchase fabric and make the masks myself. We came to the conclusion were others could buy one and we would donate one to a hospital. We wanted to use the money we received to donate as much as possible.
How does your Cameroon roots shape you as a designer?
My roots allow me to be different and unique in terms of my designs. Everyone wants to wear it! It's very different but puts me in a different category from most designers.
Describe the feeling of seeing Janet Jackson, Kelly Rowland, Trace Ellis Ross, and more stars wearing your pieces.
Oh my gosh. I didn't actually know Tracee Ellis Ross was going to wear my design. We got an e-mail from her stylist expressing Tracee's interest in wearing an outfit for the American Music Awards. At that time, we had sample pieces ready, so we shipped them one. It didn't fit Tracee for the fitting, but she really wanted to wear something from LAVIE by CK. We had to make the dress the same day they didn't tell us it fit and ship it to her overnight for the event. We didn't get a notice when they received the dress, I didn't know anything. I just assumed she wasn't going to wear the dress because I kept seeing her throughout the show wearing every other designer dress. When she came on with my dress, it was so overwhelming! It was crazy, it was such an amazing feeling. It was like I overcame something.
What can we expect to see from you in the future?
You can expect to see more ready to wear pieces. Right now, I mostly do custom designs for red carpet events but in the future, you can definitely expect to see more ready to wear outfits from LAVIE.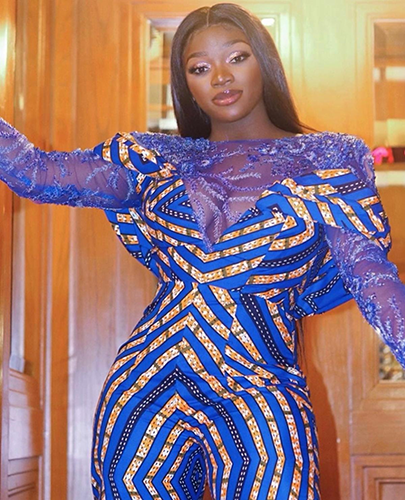 For more on LAVIE By CK, click here!
Follow the brand on Facebook, Instagram, Twitter, & YouTube.
All images courtesy of Claude Lavie Kameni