Viral social media nail brand, Makartt has just released an exciting new nail collection and it includes your favorite self-taught nail artist, Femi Beauty!
The two joined forces just last month in order to release Makartt's second collaboration nail collection and surely, they did not disappoint!
The limited-edition collection includes a 4-color poly nail extension gel kit, two 6-color gel polish kits encapsulated with glitters, and the best part about the entire collection is that it is cruelty-free! Products part of this exciting new collection were all inspired by Femi Beauty's summery-Y2K-style and her family's Yoruba roots.
We recently sat down with Femi to discuss all the details of the exciting collection, as well as Chief Marketing Officer of Makartt, Sally Chia to talk about the brand's progress in an ever-changing nail world.
What inspired the second Makartt X collaboration?
I think initially the collab started off with just me going off of my brand. As we started developing it, it got more personal and deeper. My mind started changing when I was presented with certain things like for example, the samples with tester names. I would decide whether or not it would relate to me or not. I wanted it to be personal and something that my viewers would immediately recognize.
What was it like working on this collection during an ongoing pandemic?
I didn't really have to deal with the issues behind all the shipping and sourcing. I wasn't exposed to all of that all that much. Basically, we kind of had a limited option of certain charms and such. I feel like with the options we got, we got the best stuff that we could've gotten. I'm still really happy and pleased. I am so grateful that it turned out well during all of that.
Makartt (Sally Chia): We are pretty new to launching collaboration lines. It is very well-known in the cosmetics industry, mainly because of Anastasia Beverly Hills, Morphe, and BH Cosmetics. Within the nail line, or any nail industry, collabs really didn't exist before we came along. It was very challenging for us to ensure that we were as professional as we could be and hand in hand, we ensured that the things we're putting out for both Makartt as well as Femi's audience were on time and also exactly the way that we wanted to ensure that Femi was portrayed with her brand, as well as her root. It was definitely very challenging at first, but once we all got together, it was great. I remember Femi and I were e-mailing back and forth, texting, on phone calls to make sure everything was in order. We're so happy that Femi got the dream that she wanted and that we were able to carry it out in the most professional way possible we could during COVID.
I think it speaks a lot of nail tech communities everywhere during COVID. COVID really hit those communities really hard. A lot of salons were forced to close or shut down. I think putting out this collection during this time of COVID was a nice happy surprise for everyone in the community. We wanted to launch something especially during this time to ensure that it adds a little flavor to everyone's collections. It gets them excited that choosing nails as your hobby or profession during this time, is challenging. We wanted to make it as exciting as possible as well.
Your first collection with Emily Susanah sold out within 36 hours! What have you learned or gained in the time leading up to this second collection?
Makartt (Sally Chia): Our first collection with Emily Susanah was our first-ever one. We did not know what we were doing, we had no idea how much went into it. A couple of things that we had learned was that picking the right partners [such as Emily and Femi] to go through this with from a brand's perspective is incredibly important. Especially in Femi's case, she is a self-taught nail artist. It's important to have personal partners to go into this with. It's made it a 150% better. From our side, it's new to us as a smaller brand. Having that partner that trusts you and mutual respect, plays a huge role. There are a lot of things that could potentially go wrong. I think having that mutual trust and respect for each other from the brand as well as our influencer partner, who did the collab helped us overcome these challenges. We were very transparent with both Femi and Emily. We worked through it and made it work. Femi made it so much better for us because of that mutual trust.
Femi: I think you said it perfectly. There is so much I don't know. Makartt made it so smooth for me, honestly. Because Emily had her experience first, you guys told me you had to learn so much from her collection that would help our collection. I am just so grateful that everything worked out. Like you said, we worked together.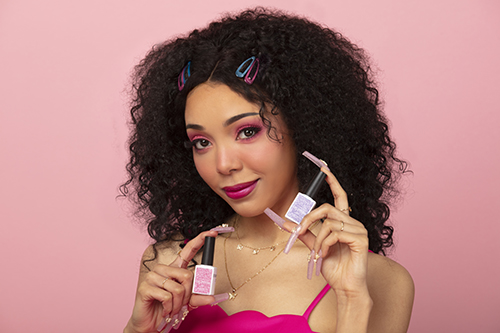 What is your favorite product from the collection and why?
Femi: That is so tough because I love it all. I think those gold dangly charms are my top favorite. They are so extravagant and really cute. I want so many of them in bulk (laughs). I could use them all over the nails. That's how I am, I'm really extra.
What advice do you have for nail enthusiasts during this time of COVID-19?
Femi: I would say because I know that it's tough right now, I would say don't look at your lack, don't look at your circumstances, if that is the space that you're in. As a beginner nail tech, there are a lot of things you see that you want to recreate, but you don't have the tools or the supplies. You may feel like you're boxed in or can't focused on growth. In my case, I would just use up everything that I had and focused on structure. I tried my best to have fun with the things I had. From there, I ended up growing because I was really into the passion and the creativity. I would say focus on that and don't think that you need all these things to be successful. It's not like that. It's really about the skill. That's how I've always felt about nails. I don't think it's about how much stuff you can throw on a nail, that makes it a good nail. Does that make sense? (laughs).
What can we look forward to seeing from you in 2021?
Femi: I have a strong desire to keep improving my content and experimenting with different types of content for beauty. I'm kind of thinking about learning lashes. I'm really close to taking a class about that. I may bring it to the channel including DIYs. I'm really into the whole DIY beauty thing. I'm also really interested in vlogs. I really want to experiment this year, that's a goal for me.
Makartt (Sally Chia): The collab has become a really important thing for the nail community because number one, we really did not see as much collabs between brands and influencers in the beauty industry, except for in cosmetics. We really didn't see it in nails. From the Makartt side, we will continue to really look for brand ambassadors that represent us and potentially launch more of these collabs. The way that these collabs are kind of structured for us in the beginning and why we reached out to Femi and Emily was because we have worked with them for many years. Femi is self-taught, I remember talking to her about the idea and she said, 'Honestly, there are a lot of respectful licensed professionals out there that we can continue to learn from.' But we also specifically selected self-taught nail artists because we want the nail community to open up just a little bit more and allow that creativity to flow, regardless of whether or not you're a professional. We want to help open up that community up and allow everyone to feel that they can build the things they believe are creative and beautiful. You should be able to do that regardless of whether or not you have the background to do so. This is why our collabs have been so successful.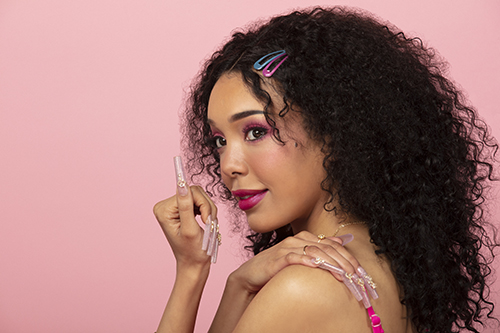 For more information on the Femi Beauty x Makartt collection, click here.
Follow Femi Beauty on Instagram now!
Follow Makartt on Instagram today!