Jakiera is the name, but on social media, very well known as Kiera Jay. I am a student at the University of South Florida, but most importantly, I am an Artist! I paint, draw, write music, create musical content for my YouTube channel and makeup artists. I've always been very artistic with many talents. My grandmother was the one that noticed how artistic I was at a very early age with singing, so she brought me to church to sing my late grandfather's favorite Gospel every Sunday, he was my greatest supporter.
Jakiera please tell our Sheen readers how did you get motivated? 
How it all started, my mother would always make me perform for her and her company. The same went for drawing because I was winning county awards for my art since elementary school. I grew up in a very humbling environment that has shown me a more incredible view of the world. I've had nothing, and now I'm ready to receive everything that belongs to me. Essentially, I am young beautiful black woman who has had my fair share of struggles to get to where I am now, yet I've always used those struggles to motivate and teach me as I moved forward throughout my creative outlets. 
Please tell us more about yourself.
As a child, I've always been obsessed with music, art, and beauty. I've always written music and remixed songs for my enjoyment, but I kept those talents private throughout my life due to being afraid of what people may think. My music and Art has been my form of therapy for years and it's comprised everything that make me who I am today. Now that I'm growing up into the women I want to be, I am exploring all creative outlets and polishing them to turn my passions into paychecks. Therefore, I am releasing a few projects on my YouTube channel, as Kiera Jay, in the upcoming months. I rap, I sing, and I will share my art with the world as well. As far as make-up goes, it's just like art. I love transforming people into a glamorous version that they never would expect for themselves. I'm a full coverage kind of girl. If you're going to go there, you gotta go all the way!  My educational background deals with mental health, which intrigues me the most. Majoring in Psychology at the University of South Florida, I feel that mental health truly makes us who we are. It determines how we handle situations that may delay our progress in the future. The world doesn't talk about it enough, but I have no problem doing so.   I am inspired by my modest successes and my family who raised me. I know that I wasn't raised with a silver spoon in my mouth, but I know I'm blessed. I was taught how to work from a very young age and because of my work habits, I'm building a future for myself to give back to those who have always been there for me. There was a time in my life where I've almost lost my life tragically during my early twenties several times. Until you know what it's like nearly to leave this earth, you will never understand the true passion for living!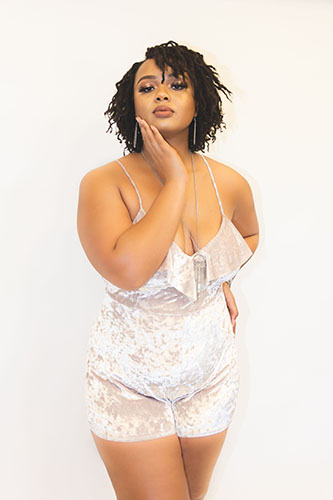 How did you stay motivated during the pandemic? 
During these difficult times, I stay motivated by focusing and moving forward rather than sitting in the present. When I am experiencing tough times, it shows me what it's like to be at an all-time low and stay honest with myself. However, it can become a little stressful, but once I navigate my way through a stressful moment, I feel like I become a stronger woman. It's just like going to the gym; every squat you take will hurt and burn as you tear down your muscles. Once you recover, you are even stronger than you were if you wouldn't have pushed yourself. This is how I view life, and I appreciate it. 
What is it like being a make-up artist and a model?
 Being a make-up artist, I'm inspired by just seeing how I transform myself and the confidence it gave me to switch up my looks throughout time. Make-up is simply art. My craft has impacted my clients by providing them an experience to uplift their confidence and show a side they would never have discovered before meeting me. I lovedoing what I do, and one day I'd hope to move into being a celebrity professional make-up artist. I'm enjoying the journey. Being a model for Sisay Cosmetics is insane! I'm so excited! As a child, I've always watched America's Next Top Model and prance around the house for my grandparents, but never did I think I would be a model. This is an exhilarating and humbling experience. It's an exuberance experience being a face of natural beauty. I stand for women who embrace their natural hair, no matter the length; Sisay Cosmetics is helping me do so. I'm very grateful.   I've been on the Dean's list in college several times, and I've won multiple speech contests and art contests. I've also even earned a medical internship among the most prestigious university in Florida. But my greatest accomplishment is accepting who I am as a woman and embracing every part of me. I don't care what anyone must think about me because I live for me. I've stopped living for what others may want, and I'm very proud of that.  
What advice can you give to someone who would like to embark in the make-up industry?
My advice for anyone embarking on my expertise is just to be yourself! Of course, do your research and practice. But never be afraid to fail. Every step in your journey is a learning lesson to improve, keep going and embrace it! 2020 was a year, and it's one for the history books.  I lived through it as a black woman with locs and a strong sense of purpose. This was the year that I started my loc journey simply because I'm tired of making sure my hair is in curls rather than an Afro, so my immediate community wouldn't judge me. My culture made it more evident in 2020 to embrace your blackness without a second guess of what criteria it may fit you under. My sense of purpose is to embrace myself and love me no matter anyone's other preference. We spend too much time as a community trying to be someone else.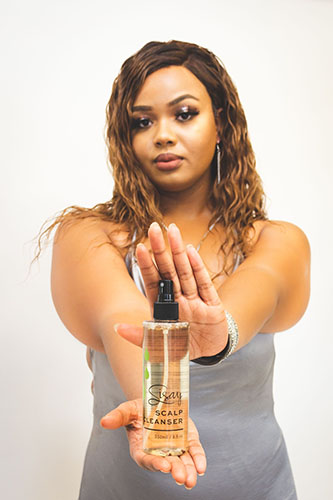 What else can we expect from Kiera Jay Artistry entrepreneur?
2021 is going to be a year to remember! Expect more modeling, consistent uploads on my YouTube channel, and the release of new YouTube content as part of my project. Also, I'm continuing to pursue my bachelor's degree in Psychology. And, of course, expect Kiera Jay Artistry to be known across all social media platforms. 
You can find me on Instagram and YouTube as Kiera Jay. My art page is kierajayartistry_official, and my make-up page is @kierajayartistry on Instagram. 
All images by Nicole Jack