When asked to describe herself, Brenda Flores Robles doesn't hesitate as she says, "I am my heart before any of my accomplishments." A grateful mother, loving wife, proud sister, joyful daughter, and good friend, Brenda wears many hats in life as the creator of Trinity and Tulip, an artist of acrylic paintings and digital art, a writer of real-life experiences, and the host of the To Serve with Love podcast. She's used the pandemic as a period to embrace the possibilities of what can be and to take full advantage of God's gift of life each day. Brenda shares this and her passion in this Sheen Magazine exclusive.
What is the art of a great podcast? 
I've always loved the art of a great interview, one that makes you feel inspired, gets you engaged, and causes you to change. It's important for people to feel comfortable in an interview because the person being interviewed can be more open about being themselves. That's how you get the gift inside to come out. This is where an individual can honestly showcase their true soul. I love watching interviews because you can't deny a good message that can inspire a revolution.
Tell us about your podcast, To Serve with Love, and its origins during the pandemic.
To Serve with Love is comprised of magic and people who make a difference in the lives of others. I created the podcast during the pandemic because we are in dire need of love—to give and receive love from one another. The podcast showcases people who have worked hard to uplift people's spirits, heal, and entertain others using their purpose in life.
Tell us more about your business, Trinity and Tulip, and how it can inspire new entrepreneurs. 
Inspired by my daughter, Trinity, I created Trinity and Tulip on Valentine's Day. During the month of love, my daughter and I were inspired to create every day. My daughter suggested we make earrings on Valentine's Day and I had a unique idea of how to do it, so we jumped in. We were full of inspiration and used mixed media paper and acrylic paint to create the first pair. We had a great time and that marked the beginning of Trinity and Tulip.
Trinity and Tulip can inspire others because I believe that if we can do it, so can you. Use your resources and do your research. For new entrepreneurs, start today and improve along the way. No one is an expert immediately starting out; we build and grow with every step we take. Jump in and have fun.
What are some of your greatest accomplishments? 
The process, progress, and growth I've made in my life. I become better in who I am and more aware of the steps I need to take to accomplish my purpose. As my relationship with God grew this past year, I started working on myself from the inside out. That process of learning to be better every day has changed my life spiritually and pushed me to greater maturity. Who I was before doesn't compare to who I am today and who I am becoming. As I walk this journey with God beside me, I will accomplish great things for my community.
What advice would you give someone who wants to mirror your success?
Start where you are and don't lose sight of what you want to accomplish. Steer clear of distractions because they won't get you anywhere. Work on your message to the world. The experiences you have will help you along your path in life. It's through your evolution that you become stronger. Use your life experience as your expertise to guide you on the road you're traveling.
What sense of purpose do you draw from your culture and community?
The Latino community has shown me the vast depth of love we give others, the family values, and the work ethic we embody to provide for our families. As we strive to improve, we lift one another up through our community by being supportive, which guides us to fulfilling our dreams.
What's your truth about the current state of the world?
2020 was a time of appreciating what truly matters in life. There were a lot of losses and gains—loss in the sense of losing the path I was so accustomed to walking and being forced to embark on a different road that's given me a different type of happiness. I think we get so used to being comfortable on our journeys that any disruption makes us uncomfortable and we want to initially reject it even if it is ultimately for the best. The gains that I experienced were shifting my focus to what matters most to me and becoming more mindful on how I spend my time. 
In 2021, I will do things differently. I will only spend time on things that are meaningful to me and on my life's purpose. I spend less time on social media now because as I get closer with God, I feel that I don't need to prove myself to anyone.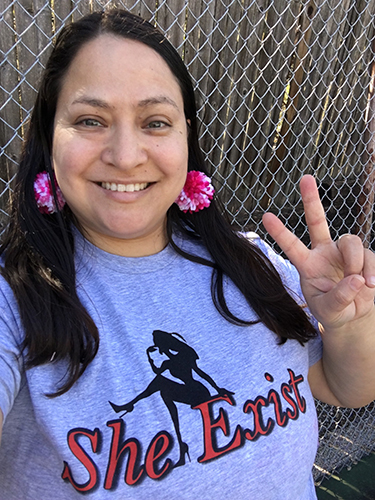 How has the pandemic impacted your career?
The pandemic brought out the writer in me. I collaborated on several books like Stepping Into Our Territories by Jenelle Harris and Blue Prints from Heaven by Elder Tommy and Evangelist Rosalind Willis. I also created my own collaboration—The Lesson in Me—that will soon be released. I discovered my voice, and it gave me a sense of purpose that I have a message to share and that my voice matters.
All images courtesy of Brenda Flores