When it comes to hard work, dedication, and a simple love for hair – there is one woman that exemplifies the true meaning to what it takes to grind in the beauty industry. Katrina Scott is the owner and founder of Shades of Melanin Hair, a black-owned business that offers unprocessed 100% Virgin Hair extensions, wigs, and much more. We wanted to catch up with the woman behind the hair empire to discuss the services Shades of Melanin provides, the influential women in her career, and much more!
What inspired the creation of Shades of Melanin Hair?
Myself being a struggling single mom the majority of my daughter's life. I kept pushing forward. Determined to be successful and succeed despite challenges thrown my way.
From working and putting myself into medical school to further my education and offer a better future for my daughters. Inspiration comes from many people I look up to that is very important to me. My mother, father, grandmother, husband and most importantly my 3 daughters. My mother and grandmother have been the Most Influential women in my life. Without them it would be no Katrina.
When it comes to my daughters. It's something about having daughters that gives you that drive to be the best in their eyes. Your children always watch their parents and will mock you. When they see your drive, willingness and determination it will show them what hard work is all about. With having my daughters who love and know everything about hair extensions. This business was the right thing to do. Something that my heart desires and to have my daughters to oversee in the future.
What services does Shades of Melanin Hair provide?
First let me say, we are a black owned business. It consists of a mother (myself) and my daughters. We offer Unprocessed 100% Virgin Hair extensions, Wigs and 3D-6D Mink Lashes at a more affordable cost along with remarkable customer service. We cater to each and every customer's needs. Every customer is treated with the most utmost service and respect. Customers have many options to choose from and it is always a joy when they choose us. Without your customers, where would we be. We always follow up with Thank you emails as well. The ones who choose to share their picture with us (i.e. tag, email) we always post on our social media pages with their permission. As of now, all of our customers only had great things to say about our hair and were happy they ran across our page.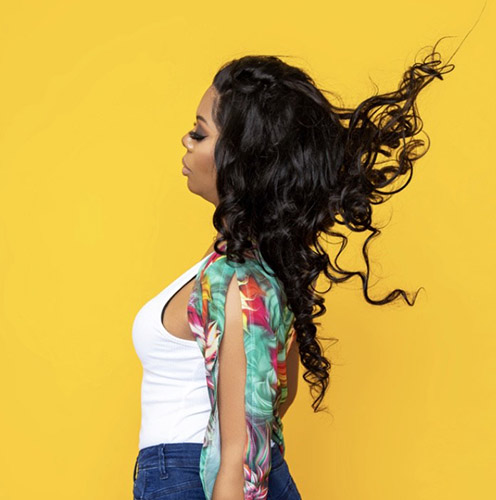 Tell us about the ambassadors of the company.
I currently have 3 ambassadors Sasha, Alicia and Dawona. Who else to have other than your daughters? My daughters are all in college. The oldest is mastering a degree in Business Administration, the middle daughter has her degree in Applied Science and my youngest ambassador starts college in the Fall, majoring in Forensic Science.
Also, the ambassadors are very well experienced and knowledgeable when it comes to the business. From customizing Wigs for our clients per their request to coloring the hair, knot bleaching, testing hair to be sure it is of spectacular quality.
Being a mother of three daughters throughout the process of starting your company. How did you juggle the challenges that life threw your way?
Juggling different challenges is like a norm for me since I've been juggling challenges all my life. It seems as though nothing comes easy. One thing I never hide from my daughters is the struggle. So, they will know the challenges and obstacles that come with not only a business but life in general. It's been myself and my daughters since they were born. So, I include them in the majority of everyday life adventures. Throughout they have been very hands on and on board with everything. Despite them also having jobs outside of Shades of Melanin Hair.
How did you get through the pandemic as a business owner?
During this pandemic, I grew closer to God by reading my bible several times a day and praying even more. You can never lose focus on God. Being that I have a full-time job in healthcare outside of my business. I was also able to work from home during this pandemic. My prayer is to be able to have a successful business that would allow me to move forward from my full-time job to my business all the time. As of now, I am not where I want to be financially to do that within my business itself. But working hard to get there. It will all happen on God's timing. But with Faith I know it's not too far away.
Do you have any advice to offer brand owners during a pandemic?
My advice to brand owners, especially small business owners starting out. Just to pray, have faith and lean on God. It has not been an easy task. Some days we have sales and some days nothing for days to weeks. Which can be very discouraging. But that's business. We also know that we have to gain the trust of people being a newer hair business.
In due timing, whatever it is you are asking for will happen in his timing. Continue to work hard as much as you know how. Even if you feel like you are not accomplishing anything. You are actually one step closer if you weren't doing anything. Do not get discouraged looking at other brands being successful and wondering what you are doing wrong. Everyone's success will happen in their season. They are successful now, but it took years of hard work, dedication and sleepless nights. Now they are in their winning season. We all wish to start a business and it takes off quickly. But that's not the reality of it. People always tell me, in your first year, you lose more money than you make. I find that to be true. Be patient, keep pushing and do not give up.
What are you currently working on? What can we expect to see from you in the future?
Currently we are working on several marketing projects to help with our business. Reaching out to different entrepreneurs. In the future, you can expect to see us doing many hair pop-ups around each city to engage and meet people. During this pandemic we have not been able to do so. In the future we are looking to open up a warehouse to store
our products and hire staff to help operate our business. Creating more jobs within the community. There are also many goals I have on my vision board, starting with helping within my city of Houston, Texas.
Click here for more on Shades of Melanin.
Shades of Melanin can be found on various sites including Google, Instagram, Facebook, Pinterest, YouTube and Texas Black pages.
All images by Tiffany Couture | Makeup: BELAAN BEAUTY