What if the shoe was on the other foot? What would the world and our society look like?
Controversy and drama are at the forefront of the film Negative Exposure's storyline. In the wake of social unrest, as police brutality and injustice are at the forefront of media headlines, the timing for the film could not be more accurate. Produced by ED Legacy Films, 'Negative Exposure' is set to spark much-needed dialogue about racial tension from a totally different perspective.
Sheen recently got the chance to speak with cast members and crew from the film.
Princess Elmore, Trionna Moore, Samantha Juane, and Becky Babatunde are a few of the talented actresses who are a part of the diverse cast. The screenplay was co-written by Tony Tite and Eric Warren Davis with featured music in the film by Grammy Nominated Artist Keith "Wonderboy" Johnson.
During an exclusive media conference Rebecca Derienzo who plays Mrs. Gresham shared her sincere hopes as a mother on-screen and in real life: "If people can see themselves maybe in the other person's shoes which is what I'm hoping from this movie, maybe that will be an opening to their hearts, and that, that empathy for these characters may open up their minds to a different perspective."
In addition to Derienzo, the film's principal cast includes Taylor Katsanis, Darrell Snedeger, and David Wurawa, noted Character Actor Charles A. Black officially helps round it off. Black is highly recognized in the entertainment community and for his real-life activism background. A former student of Morehouse College in Atlanta, he actually studied under Dr. Martin Luther King Jr. in an exclusive class for Social Philosophy and Civil Disobedience. In the film, Black portrays Leroy Patmon, a Photographer who represents both a spiritual and social awakening in the society.
Black, who at the film's press conference revealed a vulnerable moment of his shame in generalizing an entire race of people, shared his belief that "this film in a more profound sense is trying to redeem a whole country." The film's tagline states that "Believing is seeing."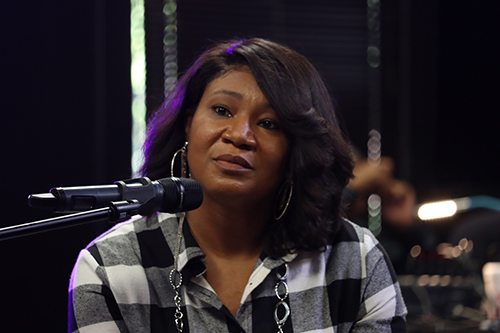 Princess Elmore who plays Inspector Thompson in the film gave additional feedback about what she would like to see people take away from the film: "What I would like to see people take away from this film is that all of us can come together as one, no matter what color we are because at some point we're all going through the same thing. No matter what the color, no matter what your race is we are all one."
More than just a film, Negative Exposure is a clarion call to action, supported by the National Black Caucus of State Legislators(, the feature aims to contribute to expected outcomes for legislation to transform policing into a model that is equitable and safe for communities of color.;j
The dynamic film will premiere and be available for download on September 4, 2020 here.
Click here to follow the film on Facebook & Instagram.
Featured Images courtesy of Nykieria Chaney