I've heard it can be hard to find products for you naturalistas out there. With research and speaking with our hair experts, I've come to learn a little more about natural hair, and well, if you're a naturalista, I applaud you. It can't be easy and finding the perfect products for your mane can be overwhelming. But of course, as The Ultimate in Beauty, we want to make your lives easier in every way! Today, we want to highlight a product that will give your natural hair exactly what it needs: moisture.
This week's Product Pick of the Week is dedicated to Nairobi Professional's Moisture-Sil Hair Lotion.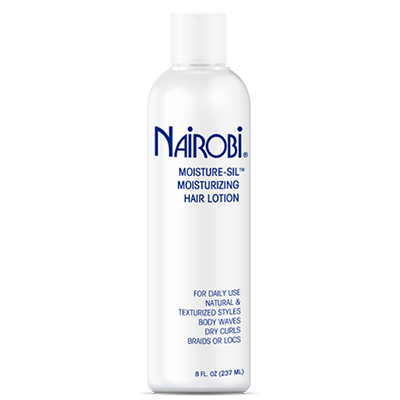 Nairobi Professional Moistur-Sil Hair Lotion, $14
Whether or not your hair is in dire need of moisture, it's essential to keep your hair moisturized when in the natural phase. This moisturizing lotion from Nairobi Professional is raved all over the web and in beauty salons! It not only moisturizes curls and keeps waves with body on your hair but it also adds the shine you didn't know your hair could achieve. Nowadays, it can be hard to find a product that can hydrate your hair without weighing it down, this one does an amazing job of keeping the hair strands moisturized without any buildup – which is a huge plus in my book. We've found that this product works best for those who may have lost moisture from perming, hair relaxing, or even climatic conditions.