Back in September, we learned that Kimora Lee Simmons was planning on releasing a beauty collection with her daughters, Ming and Aoki and to be quite honest, I didn't need to know any other details. I had to have their products!
Why? Because who couldn't use a little bit more glamorous added to their life? The debut product from the brand is the Shimmer Sets, which retail for $45.
There are three versions of the kit that all include the Illuminating Body Spray, Hydrating Body Lotion, and Plumping Lip Gloss.
View this post on Instagram
Ethereal is a pear and amber scent, Opulence is a floral with caramel and bergamot, while Divine is a jasmine and vanilla blend. When I first opened my package, I was absolutely shook. I love how fabulous the sets look, they automatically made me think of how glamorous Kimora Lee Simmons is, she's an icon!
The packaging of these products are just as fab but the quality of them are just as great. All three products are super hydrating – which I will admit I need more than anything right now. I love a good sheen on my skin all year-round so the body spray is right up my alley.
All three sets include a lip gloss for added shine to the lips, a hydrating body lotion, and of course the body spray that will add radiance and a soft scent to the skin.
Opulence Shimmer Dreams Set, $45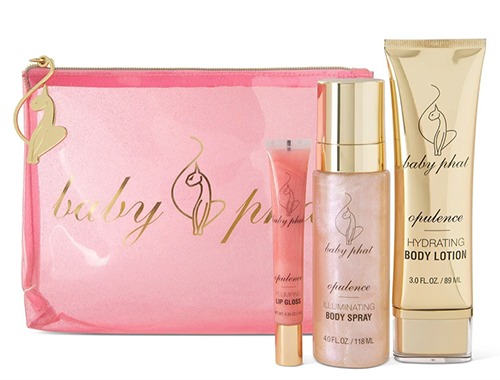 Divine Shimmer Dreams Set, $45
Ethereal Shimmer Dreams Set, $45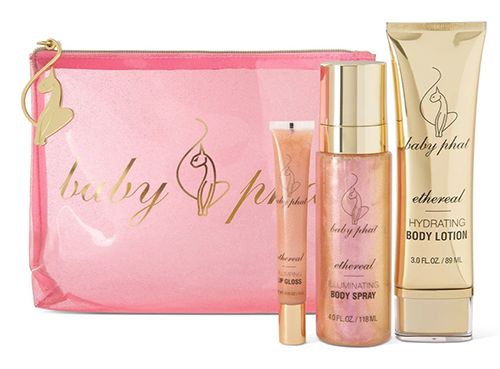 Have you tried products from Baby Phat Beauty? Let me know your thoughts in the comments below!
For more information on Baby Phat Beauty, click here.