Cameo Nouveau offers globally-sourced, on-trend clothing, jewelry, accessories, the perfect gifts, and staples you'll want to decorate your home. I love the brand's good vibes and positive spirit so naturally, I had to dedicate today's SHEEN Review to the brand itself.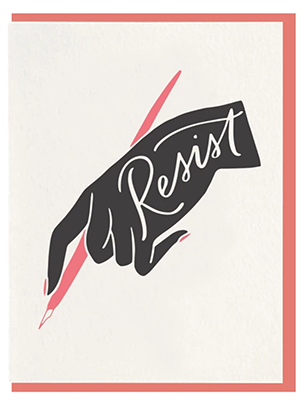 Resist Greeting Card, $6.95
I love how chic and elegant this simple card is. The neat part about it is that it is hand illustrated and it comes with a coordinating papaya envelope. I sent this card to my grandmother who was more interested in where the card came from than what I said to her in the actual card. Cameo Nouveau has such neat pieces but their postcards and greeting cards are hands down my favorite.
For more information on Cameo Nouveau and to purchase your products today, click here.
All image obtained from Cameo Nouveau