Just in time for the holidays, this SHEEN Review is perfect for your beauty-obsessing loved one, or even yourself!
Today, we're talking all things hair and what other brand to highlight than CHI, am I right?!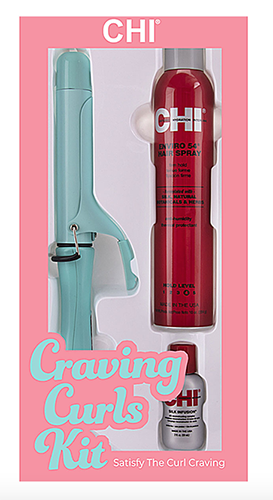 CHI Craving Curls Kit, $74.99
This kit has everything you could need when curling your hair, it includes CHI's Silk Infusion – a leave-in treatment for the hair that is enriched with silk, wheat, and soy proteins. I personally love that this product itself strengthens my hair, adds a pretty shine to the hair, and makes it ultra-soft. You just need the smallest amount and viola, perfection. Whether you're using heat on your hair or not, I highly reccomend it because I've noticed how much it has improved my hair in terms of silk and moisture.
There is also the CHI Infra Texture Hair Spray – which is a must-have hair spray! It does not make the hair hard or crunchy and keeps my curls lasting all day long!
Okay, let's have a conversation about the curling iron because it's most-needed. The curling iron is a 1 1/4″ iron that has ceramic plates and a swivel cord. It glides easily on the hair, which I love because my hair doesn't get caught up in the iron – don't you hate that too?
I think this kit makes a perfect gift for the holidays. It's affordable for all the quality products you get and I don't know anyone who wouldn't be happy about a new curling iron!
For more on CHI and to purchase your kit today, click here.
All images obtained on the official website of CHI