What person doesn't want to feel luxurious without breaking the bank?
I recently discovered a jewlery brand that completely changed the way I look at accessorizing. I've never really been into jewelry other than earrings to be quite frank.
If I'm honest, it is because good jewlery at a good price is just so hard to find! The good news is that Curio is a brand that believes everyone should experience a bit of luxury in their life.
Their fun and flirty designs were right up my alley so I had to get to know more about the brand. Upon first glance, I assumed I would be paying a fortune for pieces of jewelry but I was proven wrong!
Curio offers pieces with real diamonds for under $60. That's right!
The brand transforms diamond jewlery into modern, pieces of art keeping everyone's bank account in mind. Their unique pieces are something special and I couldn't think of anything more perfect, especially during this time of the holidays.
I was lucky enough to get my hands on the brand's All of My Heart ring so here is my honest review.
Today's SHEEN Review is dedicated to Curio.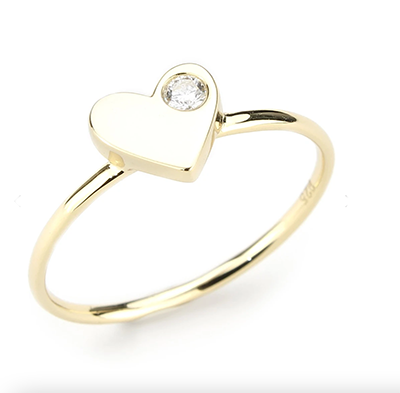 Curio All of My Heart Diamond Ring, $59
I've been loving this bold, yet simple ring. It includes the brand's 2.5mm lab-grown brilliant-cut diamond and is so classy! I love that the diamond is minimalist yet still very eye-catching. I've gotten so many compliments rocking this ring. For someone that has never really been into rings, I love how elegant and simplistic this ring is. It adds the perfect finishing touch to any outfit.
For more information on Curio and to purchase your pieces today, click here.