Claudia – the founder of Isabelle Grace jewlery line was inspired to create her brand specifically for one reason. A gold locket her grandmother wore that included a photo of her grandfather. Needless to say, her jewlery brand was created and holds a personal touch with each design in order to carry on a beautiful family tradition. With the words she inscribes in her jewlery to the stones and charms added to each accessory, her creations truly hold a memorable touch for not only her but for her customers as well. I have been obsessing over Isabelle Grace Jewlery for quite sometime. The effortless yet classy pieces are right up my alley and I love that they are all made in hand in the brand's studio home of New Bedford, MA. With the best materials and a great amount of expertise, it's clear to see that this brand, made of all things beautiful will just as special for you as it has been for me.
Today's SHEEN Review is dedicated to Isabelle Grace.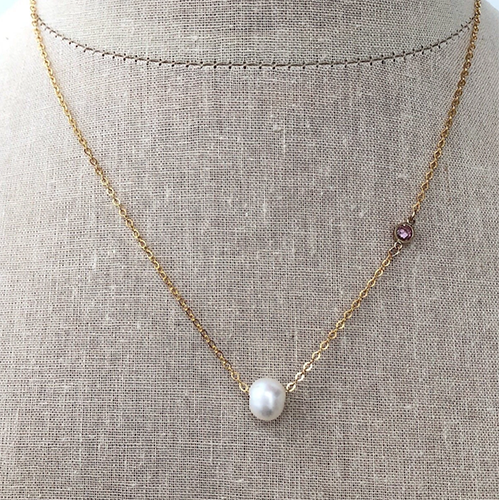 Isabelle Pretty in Pearl Necklace, $56
I have been loving this timeless jewlery piece from Isabella for so many reasons. For one, I have not been able to go a day without receiving a compliment whenever I wear it. It's the perfect touch to any outfit that I have and I think it looks so classy. Though it's minimal, I love that effortless look. It adds such a sparkly touch to my 'fits without being loud. Though simple, it's minimal and gorgeous on the neckline.
For more information on Isabelle Grace and to purchase your pieces today, click here.