My hair and I have a love-hate relationship. It took me years to figure out what products and ingredients my hair loves and hates. To this day, I'm still testing out products through trial and error to find what works best for me and my hair type. I have wavy, frizzy hair so it's important to find products that will tame the frizz while ensuring my hair stays moisturized throughout the day. One ingredient that has done wonders on my hair is honey – yes you ready that right, honey! You'd be surprised at how well it works on wavy/curly hair. Recently, I have been loving Miss Jessie's Honey Curls. It contains sweet almond oil and honey. At first, I was hesitant because I wasn't sure if it would be a product that weighed down my hair or made it appear greasy but I have nothing but great things to say!
Today's SHEEN Review is dedicated to Miss Jessie's.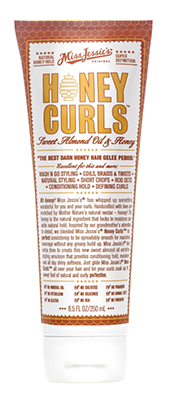 Miss Jessie's Sweet Almond Oil & Honey, $16
I have been loving this curl enhancer from Miss Jessie's. One of my favorite ingredients in haircare as odd as it may sound is honey. I was super excited when I came across this product because honey is an ingredient that adds a great amount of moisture and hold to curls. The consistency of this product is so smooth and it does not weigh my hair down at all. I also love that it is not greasy. It has done an amazing job at conditioning the hair while adding shiny-ness to my hair. My wavy hair soaks up all the product and has never looked better. I highly reccommend this product to all my curly-headed beauts and even those with wavy hair (like mine) because it truly does what it says. It enhances the curls to absolute perfection. I have been applying this to my damp hair and using a diffuser to lock the curls in place. A little goes a long way too, which is great.
For more information on Miss Jessie's, click here.