I don't know if it's the winter weather that is making my hair so dry lately but enough is enough! I really dislike this time of year for many reasons, and my hair and skin can back me up on that.
In addition to the colder months drying out my hair and skin, I am a constant user of heat tools, which is obviously known to cause great damage to your hair.
In a recent conversation with my hairstylist, she recommended playing trial and error with hair oils – of course with caution. My hair can take a lot of product but one thing I hate about a hair oil is that too much can seriously wear your hair down and make it look greasy.
I stumbled upon ONaturalOils on Etsy – my other obsession besides heat tools and immediately saw all the people raving about this brand and the products they offered.
I decided why not give it a shot, right?
Today's SHEEN Review is dedicated to ONaturalOils.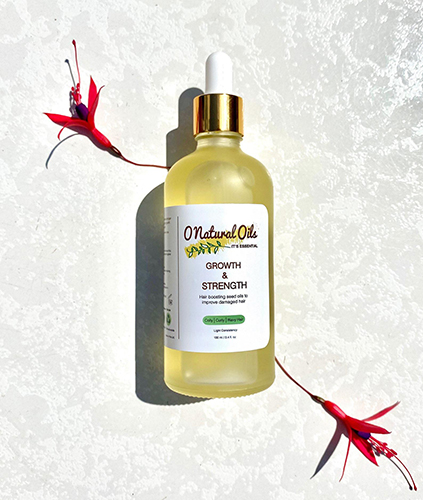 ONaturalOils Grow & Strength Hair Oil, $19.79
This handmade oil deserved a feature of it's own and I can only hope that my words do it justice. It is formulated with Argan oil, tea tree oil, and castor! The great mix has added a great amount of volume to my hair and strengthened it over the period of time that I have used it. My hair looks thicker than ever. Argan oil is great for providing shine to the hair but I feel like the great combination of these ingredients really help keep the frizz and breakage down when styling – because yes, I'm not putting my straightener or curling iron down anytime soon. The tea tree oil in it is great, I can smell it in the product as soon as it hits my hair. It has also helped reduce flakiness that my hair accumlates while keeping my scalp healthy at the same time. If you've been reading muy posts for quite some time then you know that I love beauty products that are cruelty-free! This oil is not only cruelty-free but does not contain paraben, silicone, petroleum, and mineral oil!
For more information on products from ONaturalOils, click here.
All images obtained on the official Etsy page of ONaturalOils