If you are addicted to Etsy like I am then get ready because I am about to put you onto the one of the greatest shops I've found on Etsy. Steph's Scrubs & Stuff is an organic, homemade skin care and natural soy candle company. One day, just scrolling through Etsy, I came across this brand. At first, it was the simple, yet homey feel that I got when viewing the items on this shop. I love how everything made is so creatively unique so naturally, I had to give the brand a try. Today's SHEEN Review is dedicated to Steph's Scrubs & Stuff. I won't lie to you, I spent about two days going back and forth on which products I wanted to try.
There are so many great goodies on this shop. From bath bombs to lip balms, even linen spray. Of course, I naturally gravitated towards the handmade candles because I've made candles myself before and well, for someone not as patient, I quickly realized that I should just stick to buying candles. The most fascinating thing I found about candles was that they're not all great for your health and enviornment. Many candles now a days just contain strong fragrances and a ton of icky ingredients I'm sure you and I don't need in our homes.
The lucky winner was the Snickerdoodle Scented Candle. Again, there were so many options to choose from but I just went with my gut, or should I say stomach? This snickerdoodle scented candle smells absolutely heavenly. I always find it difficult to review candles because I truly believe everyone's smelling senses are different. However, what I will say is that this candle makes my house so homey. It wa packaged to perfection so nothing broke and I love that Steph makes her packages so personal. There are sweet scents of sugar, cinnamon, caramel, and even vanilla. I love that it is paraffin and phthalate free! I haven't even told you the coolest part – the wick is a cotton and paper blend so that means it is lead and zinc-free. I can't tell you how many family members of mine have complimented how well my house smells upon walking through the door. I know I'll be purchasing more and I hope you all will too!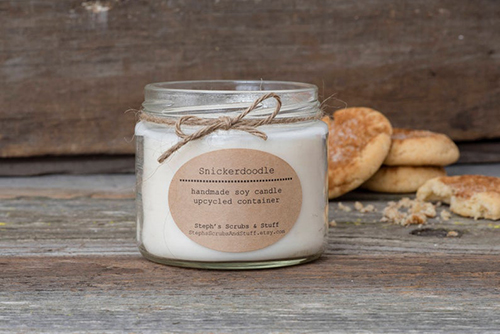 Snickerdoodle Scented Soy Candle, $12
For more information on Steph's Scrubs & Stuff, click here.