Pumpkin spice season is here and I couldn't be more thrilled. Although fall isn't officially here just yet, I always get so excited when coffee shops and brands begin to roll out their pumpkin-flavored goodies. StoK Cold Brew has been my go-to when it comes to iced coffee – I always keep it in my fridge because a busy bee on the go is always tired! Luckily for me, I got my hands on the brand's Pumpkin Cold Brew, and oh my goodness…
Today's SHEEN Review is dedicated to StoK's Pumpkin Cold Brew.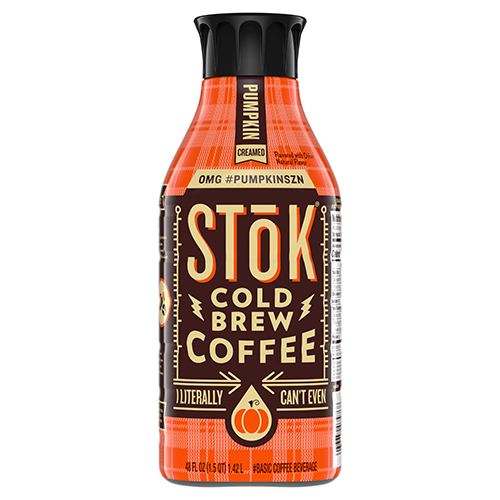 SToK Pumpkin Creamed Cold Brew Coffee, $5.29
For someone who doesn't like pumpkin-related food, I was always so sure that I wouldn't like pumpkin spice. I'll never forget. It wasn't until three years ago when my good friend suggested that I try Starbucks' Pumpkin Spice Latte – hesitant, I thought why not? I'm so glad I tried it because ever since then, I've been obsessed. From Dunkin Donuts to Starbucks, I look forward to the fall season every year specifically for the pumpkin-flavored drinks. Just recently, I discovered that SToK had a pumpkin cold brew coffee and I had to put it to the ultimate test. When I tell you that this pumpkin cold brew takes the cake for me, I really mean it. I'll never go to Starbucks and Dunkin again because there's something about making your own iced coffee from the comfort of your own home. It's not only smooth but it is also bold and delicious! Whether or not you like pumpkin-flavored coffee, I highly suggest giving this one a try. It's a treat, yet you still get the full boldness of coffee. Have you tried SToK's Pumpkin Cold Brew? Let us know in the comments below.
For more on SToK Cold Brew, click here.
All images courtesy of SToK