If you're familiar with my fashion posts then you know how much I absolutely adore TOBI.
For one, the pieces on their website are always, and I mean always marked down. For someone that is not trying to hurt their wallet but always wants to stay fleeky, it's really important to me that I'm saving while I slay! How many of you all can relate?
The brand is always releasing products to cater towards trends and the season. I of course, had to take advantage of all their adorable pieces that they had this summer.
Although I'm sad to see summer go, I had to stunt with a few summer pieces before I said my farewell to summer until next year.
The first fashion piece that caught my eye was their Feel Good Orchid High-Low Midi Skirt ($49). To me, this skirt screams summer. I love the vibrant color of it and how flowy it is. I'm someone that loves mini skirts but I figured it was time to branch out of my shell.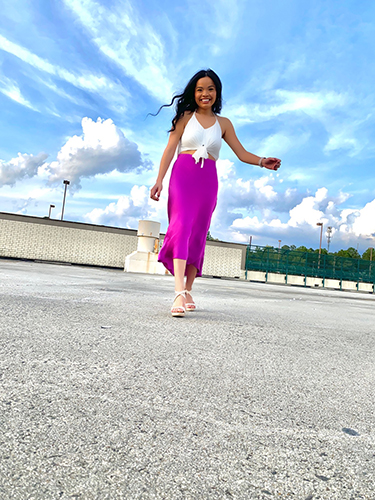 The second piece from TOBI that I wanted to pair with this skirt was a basic crop tie shirt. The brand's Front Tie Crop Tie (white, $8). For $8, you just cannot go wrong. I knew that I wanted to pair this skirt with a basic top because I did not want to take away any attention from it.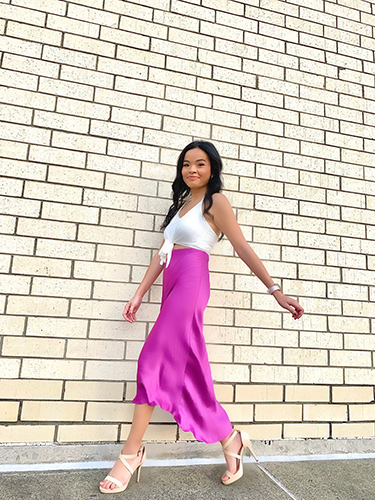 I cannot tell you how much fun I had shooting photos with this outfit. For one, I was coming out of my shell but what I will say is that this entire outfit made me feel like I was doing the damn thing! It gave me so much more confidence and I felt so fun and flirty in it.
I can't wait to see what TOBI will have to offer for the fall season. Though I'm sad to say goodbye to summer, I can only imagine what the brand has up their sleeve for next summer.
For more on TOBI and to purchase your pieces today, click here.