You know here at SHEEN Magazine, we're big supporters of black-owned business, as you should too! Nurse Practioner, Devenie R. Since as long as she could remember, Devenie has always had a fascination with jewlery. While succeeding in her career providing medical and mental health servies to women in drug and alcohol treatment facility, she took advantage of the opportunity to show her patients just how important they were in this world. Out of the kindness of her heart, Devenie began gifting women with jewelry engraved with inspirational words to get them through their current struggles. We could all use a reminder here and there that we all embody strength and power and can overcome any challenge.
I was lucky enough to collaborate with the personalized accessories brand, Very Last Detail (founded by Devenie R.) to share my personalized necklace with you all.
I've been obsessing over this necklace since the day I got it. I love that the Manifesting Style Custom Necklace ($108) simple this piece and how it pulls together any look.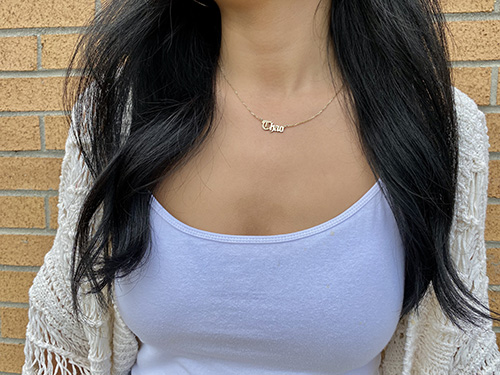 Though my personalized necklace is just my name, I loved browsing through the brand's website to find that the personalized accessories go beyond just a name. Two additional pieces I love from Very Last Detail include the Self Love Pavé Neclakce ($162) and the Loyalty Style Custom Charm ($116).
If you thought Very Last Detail stopped with just necklaces, you were clearly mistaken. The brand includes anklets, bracelets, rings, and earrings.
For more information on Very Last Detail and to purchase your personalized pieces today, click here.