With his smooth, rich tone and his versatility in the music industry, singer/songwriter, Jamal Moore has the entire world captivated and wanting more!  Whether it be pop, jazz, gospel, or classical music, Moore has made his mark in the world of music and it's clear he does not plan on slowing down anytime soon. We recently had the chance to sit down with Jamal to discuss his brand new project titled, Love Letters Vol. 2, his music journey thus far, and much more!
Did you always know that music was going to be the path you took in life?
I was always passionate about it. I did not know that it would be the path that I took until I would say later on in high school. I grew up in church. I grew up playing drums and singing in choir. I did choral music and I really enjoyed performing. As I grew up, my parents wanted to have me to have a solid plan, get a good job, and take care of myself. As I got older, my passion for music grew a lot more. Singing became easy and more natural than drumming, so I put all of my efforts into chasing this dream of music. It just kind of came from fruition from there.
Tell us about your latest project, Love Letters, Vol. 2.
Love Letters Vol. 2 is the second installment of a series of covers that I have done. I began singing covers on YouTube and began getting requests to sing at weddings, so I decided to make a business out of that. I saw that people were gravitating towards my love song covers so I decided to create this new project, Love Letters Vol. 2 along with a friend of mine from Augusta, Georgia. His name is Timothy Jenkins – who curated this project. We just wanted to spread love in one of the most difficult years ever! I feel like we needed a good bit of love to overcome it. Hopefully it can inspire people to love hard, not take things and people for granted, and repair the world as best we can with love.
Can you tell us about your experience being on NBC's The Sing-Off?
It was a great experience! I was on the show in 2011 and also in 2014. In 2011, I was on there with my acapella group from college. That was the season three of the show. We were featured alongside some amazing groups such as Afro-Blue, BYU Vocal Point – really amazing groups. Pentatonix won that season and they've gone off to do amazing things from there. In 2014, I came back with my professional acapella group called The Exchange. The show had a Christmas special and we were featured there alongside some other groups. That was a great experience as well. I had a great time creating with some of the best vocalists I've ever come in contact with on that show. Getting to use our brains in a really cool way and entertain America was really cool.
What are you currently working on and what can we expect to see from you in the rest of 2021?
I just released Love Letters Vol. 2 and I just released the first visual of that project. It was a visual for "What You Won't Do For Love" by Bobby Caldwell. That has been out for a few weeks now and I am currently working on some additional visuals to go alongside that project. I'm also working on a Christmas EP. It's been a while since I released one and people have been bombarding my inbox, so I am working on original Christmas music and a few covers. Hopefully I'll be on a tour this winter. I'm also working on my own original music that will be released at the top of next year. I've been kind of on a journey to weed away from covers and into original music. So, that's why I dropped an original song on Love Letters Vol. 2. The next project will be completely original so I'm super excited to make it go into fruition.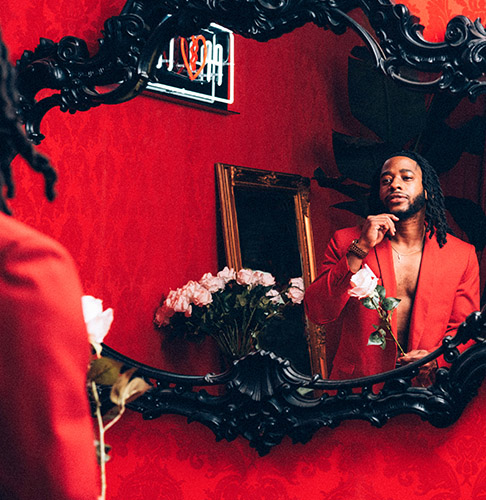 For more on Jamal Moore, click here.
Stay connected with Jamal by following him on Facebook, Instagram, & Twitter.
All images by Earl Buenaobra