While most are just trying to maintain their daily lives amid this pandemic, some are also choosing to make major boss moves for their lives.  Megan Kirkwood is one woman who made the pivot to launch her dream apparel line known as Mix Me Apparel LLC.  "I started Mixme Apparel in September 2020. It is a womenswear boutique that provides "Modern, On Trend, Exclusive" clothing," says Megan.  "I have always had an eye for trendy women's fashion.  I love to see women looking and feeling their best," continues Megan Kirkwood.
Megan's boutique brand wasn't built overnight though.  In December of 2016 she was diagnosed with breast cancer.  She was only 29 years old.  Her course of treatment included chemotherapy, radiation and a double mastectomy.  Although she is now cancer free, the disease left her with many insecurities and challenges ahead.  "Chemotherapy led to total hair loss.  Having both of my breasts removed also left me with multiple scars that caused insecurities. I eventually learned to overcome those insecurities through loving myself and lots of self-care," she explains.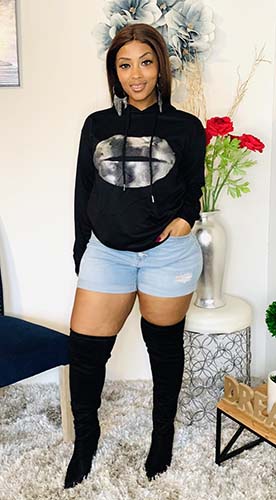 Megan Kirkwood is also a single mom to a young son who also experienced divorce. "No one gets married to get divorced. I was married for 5 years before I filed for divorce," Megan continues. "Finding who I was after my marriage was essential to living an optimal life for myself and my son," she states.  Her ability to overcome drastic obstacles has left her with a resilient spirit.  Her resiliency is mirrored in her current boutique brand of Mix Me Apparel.  
Megan is helping other women find their trendy fashions one item at a time to uplift their confidence and esteem.  The pandemic has been difficult for all of us but empowering brands and girl bosses like Megan are here to shine light on the benefits of what can happen when you never give up. Shop her modern, on trend and exclusive items today!  Connect with Megan's boutique brand here and visit her on social media here.
Writer, C. Scott, is a mother of one; author, social worker, early literacy interventionist and entrepreneur. Follow her on Instagram as @curls_coils and @mysweettealife.