Are you someone who can't leave your house just looking any ol' kind of way?
Do people always compliment you on your style and ask you for tips?
Have you discovered that you're a Fashionista and want to learn how to get paid doing what you love?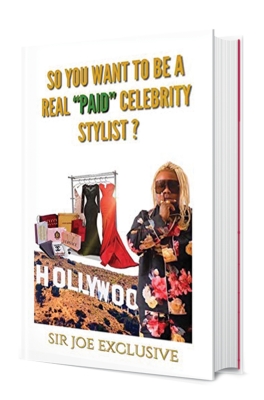 Well keep reading!
For those who are unfamiliar with me, I'm Joe Exclusive, an established Celebrity Stylist. In my debut ebook, So You Want To Be A "Paid" Celebrity Stylist?, I share the secret sauce I used to build a thriving and lucrative styling business within the entertainment industry. Trust me! The tips, resources, and steps I share are secrets that every aspiring and novice stylist needs to know to not only work with premium clients, but also how to get paid!
So what can you expect to learn from this how-to guide? Future Fashionistas can expect to learn:
How to develop the mindset of a stylist
The different types of styling careers
The importance of building the right relationships
The pros and cons of being a black stylist
Are you really ready to get paid doing what you love? Grab the styling guide that's changing the fashion industry one download at a time.
Purchase your stylist guide at
Amazon