In light of the global pandemic, and specifically the economic impact that's weighing on our nation, we caught with Tara Omotosho of Increase Biz Now, a digital marketing agency offering the following services: web design, business branding and marketing, social media management and marketing, webinar and online course creation. She and husband Akin Omotosho operate as a singular entrepreneurial force that has a relevant footprint in the marketplace for positioning business owners to identify, develop, and deploy the necessary skills to pay the bills.
What is your take on the necessity of creating multiple streams of income? 
In this economy, there are no guarantees anymore. It used to be if you went to college, you were likely to get a stable job. Now the job market is tough and highly competitive and just having a degree or advanced degree is no longer a reality. There is no such thing as job stability or security and people aren't staying on one job for 30 years like some of our parents or grandparents.
No one really knows what is going to happen from day to day, so it is critical to have many streams of income so that you have options, and more importantly, a sense of financial peace.  
Why did you think the path of entrepreneurship is more essential now than ever?
This is the best time to start your own business. According to several expert reports, by 2027 over 50% of the workforce will be remote or occupied by freelancers. We show entrepreneurs (new and existing) that there are so many ways they can use their current skill sets to start their own business. And with the upcoming stimulus package that was recently approved by the US government, it would be wise to take some of that money and start a business or learn a new skill to position yourself in the marketplace, especially online marketplace. 
You and Akin have been a dynamic duo in business helping to build, sustain and market brands for entrepreneurs nationwide for several years now. Are you seeing an incline or decline in your business(es) during this time?
We are seeing a surge in new clients recently and increasingly within the last 2 years since more people want to start or grow an online brand or platform. There are so many customers who are trying to be where the buyers are and that is—online.
We can't go to the stores since every state is adhering to the "social distancing" mandate that's required to contain and weaken the widespread threat of this pandemic. Therefore, consumers are online more than ever. One of the benefits of being quarantined, people have more time and opportunity to learn new skills. Such as the skills to write that book, start a coaching practice or finally set up those social media platforms to position themselves online. This is where we step in to serve our clients in doing these in a methodical and efficient way.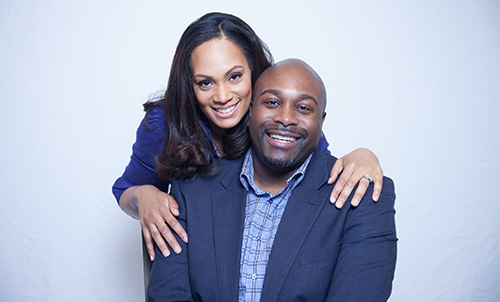 You both are widely known in the marketplace for helping individuals to develop, "Skills To Pay The Bills." How are you helping more people to accomplish this especially amid a national and global crisis?
We are helping clients to know the value that they bring to the marketplace and how to identify and serve their target audience with relevant solutions. We are showing them how to create packages and pricing that will, in turn, help their future clients succeed and then we are showing them how to create additional income from their newly discovered skillsets. It's a beautiful process.
What would be your advice to those who have recently lost jobs, income sources, and revenue that they were depending on?
First, I would tell them not to panic. This is the time to pray and seek strategic guidance on what your next moves will be. They have to get their minds right because their thoughts will eventually become reality.
Second, I would tell them to start their own business. There are so many benefits in place legally for business owners. The internet is revolutionizing the way we learn, engage and exchange and this is the opportune time to make the inevitable shift.
Third, take action because ideas are a dime a dozen, but it is the one who "act" on that idea that will move in the direction of tangible results and success. 
Ask yourself, what can I do to serve people and provide a solution that people need in this volatile time? Perhaps you cook and create meal plans. There are a whole audience of parents looking for that solution. You might be really good with children and can babysit some neighborhood children (after the quarantine has been lifted). This, alone, can put you on a path to run your own home childcare center. Others are tech savvy and their skills are needed by people or businesses who are technically challenged to engage with new customers or run online systems. There is so much business opportunity out here, it just takes being creative and strategic. 
Working from home (and homeschooling) is certainly not new for you and Akin. How long have you been working from home, and what's your best advice on working together in the same household, especially with the kids present?
We have been homeschooling our four sons for 5 years now. We have been working from home since 2007. We started our entrepreneurial journey in the real estate investing business; however, in 2009 we struggled because we didn't have multiple streams of income in place and we put all that we had into the business. We learned from that painful experience and launched our own company, Increase Biz Now, LLC.
However, being a homeschool entrepreneur is tough but it is doable. It requires strategic planning, planning that involves getting up earlier than the children to complete some assignments. Having structured school hours and support measures like online learning curriculums. Having specific and clear office hours for your business. It also requires the buy-in from your children to pull it off successfully. Our sons are on board and in October 2019, they even started their own business, a clothing and apparel line called Impactful Gear—clothing that carries a positive message. 
How can others connect and find out more of the solutions you deliver to the marketplace as trailblazers in entrepreneurship?
Visit our website here! Our office number is 410-846-9295. You can reach us by e-mail at info@increasebiznow.com. Our location is 1121 Annapolis Rd. Suite 312, Odenton, MD 21113. Connect with us on Facebook, YouTube, & Instagram.
All images by Rodney McCullough