Pop/R&B singer, Skylar Stecker first released her debut single back in 2015 and since then, she has not slowed down on her journey to success! The young music sensation has proven to be force to be reckoned with in the industry time and time again. With over 17 million streams on Spotify and over 33 million views on YouTube, this beautiful soul was deemed YouTube's Artist on The Rise! Ahead of the release of her upcoming EP titled, Earth Sign, we wanted to catch up with Stecker to discuss all things music, the new project, and much more!
Tell us about your upcoming single release.
Yes, my upcoming EP is called Earth Sign. It is being released on July 16th. I have been working on it for a while, "Superman" was the first single from the release. "You" was released afterwards from the EP and now the next single is going to roll over into "Earth Sign" featuring Lucien Parker, who is also a fellow Earth sign, he's also a Taurus. That comes out July 16th and I'm really excited for you to hear it!
You were named YouTube's Artist on the Rise. What does this accomplishment mean to you?
It's super cool. Every single step in the opportunities that I have been given, I have been super grateful for. I do it because I obviously love music, it's within me. I wouldn't do anything else, it's apart of who I am but those opportunities are definitely very helpful and its very rewarding at the same time to be able to have that little bit of acceptance on that side as well. It's so fun, I got to perform for that as well, which was a super cool experience.
How would you describe being an artist during this time of COVID-19?
I mean it was definitely very typical for everyone. We didn't know necessarily how long it was going to be or what it would entail for artists with music and touring. Everything got postponed and cancelled for the most part. I just knew in the beginning that I had to adjust and change plans to find a way that I could better myself and grow as an artist during that period of time. I played the drums a little bit before I went into COVID, but I really focused on that during quarantine. I also learned how to produce and vocal produce, so majority of the songs on the EP are all songs that I vocal produced, wrote, and helped co-produced. Honestly, I'm very grateful to have learned that skill during COVID because it's something that I can take with me for the rest of my life and apply to all my future projects.
What are you currently working on and what can we expect to see from you in 2021?
Everything right now is very Earth Sign-based. I'm getting ready for the release. I've obviously have continued to record, write, and brainstorm for the next phase or era. I'm putting all of that together and I would also love to go on a tour. Those touring opportunities have started opening up a little bit, so I'm definitely exploring the opportunity to go on tour this fall, hopefully or early next year, which would be amazing to be able to perform those songs live again with my fans. I have a live performance show that's going to be coming out very soon so I am very excited for people to watch that if they don't have the opportunity to see me live, they can watch that from their home. Everything Earth Sign right now!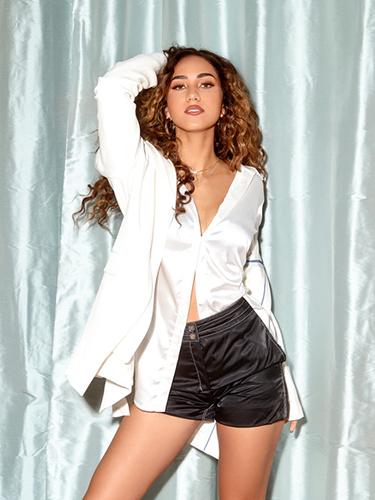 For more on Skylar Stecker, follow her on Facebook, Instagram, & Twitter.
All images by Kigon Kwak