Ayesha Curry has just landed a new partnership with the popular plant-based brand, So Delicious.
The exciting new partnership features most of our addictions: CHEESE!
With so many plant-based alternatives on the market, it can be hard to find what works best for you. In addition, it can be super challenging to find plant-based dairy products, especially cheese.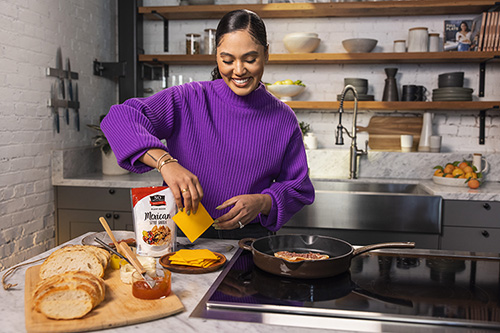 So Delicious' new Dairy Free Cheese is one that will make you consider going completely dairy-free in your diet. It includes shreds, spreads, and even slices to incorporate into your lifestyle. They are all dairy-free, gluten-free, soy-free, and non-GMO Project Verified.
You can find them down the refrigerated aisles at your grocery store!
Curry even shared her dairy-free recipe for a delicious Chicken Parm Burger. See how she incorporates So Delicious Dairy Free Cheese Alternatives below!
For more on So Delicious Kitchen, click here.
All images courtesy of So Delicious