Put some respect on T-Pain's name, expeditiously.
The Tallahassee Superstar came in the music industry in 2005 and created trends/paved the way for many artists today. Not only is he a 'Rappa Ternt Sanga' which was his debut album name, T-Pain is also a living legend.
So, give him his flowers, ASAP.
There was once a time where we couldn't turn to a radio station and not here a T-Pain song. He has the ability to take a song and turn it into a major hit. This is remarkable because it was during a time where the beat of a song wasn't the major focus like it is now. It was the artist's ability to take a song and add their own touch. T-pain's touch was magical obviously because "I'm Sprung" will forever be a hit.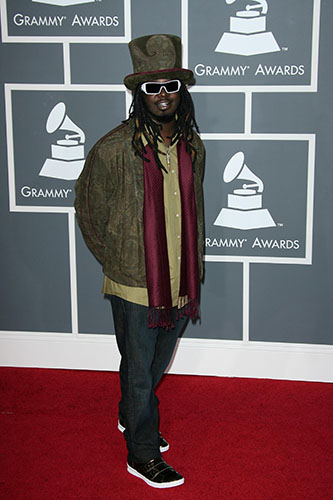 If you don't know, before T-Pain, auto tune wasn't as popular as it is now. Nowadays, we don't even know what a rapper's voice actually sound like.
He won a plethora of awards for his works of art including two Grammys for his collaborations with Kanye West and Jamie Foxx. Let us not forget, T-Pain was a fashion trendsetter as well. Many rappers were too caught up in looking hardcore, but T-Pain was all for making a fashion statement. From the animal print hat to the one arm sleeved jackets and humongous chain, it's clear that he ruled the fashion world as well.
Now, there's a lot of rappers who aren't afraid to wear clothing that shows character. That's the power of T-Pain! Since then, T-Pain has expanded his Talents to creating his own Record Label, Nappy Boy Entertainment.
In 2019, T-Pain won the first season of "The Masked Singer" which proves that everyone needs to give him his props, because this man is simply unstoppable.
There's no doubt that T-Pain's impact on the music industry will live on forever. He's a legend.
Here's a "T-Pain Hits" Playlist that'll have you wishing we were back in the early 2000's:
Buy U a Drank (Shawty Snappin')
Bartender (with Akon)
Can't Believe It
I'm Sprung
I'm 'n Luv (Wit a Stripper)
Good Life (Kanye West ft. T-Pain)
Kiss Kiss (Chris Brown ft. T-Pain)
Shawty (Plies ft.T-Pain)
Low (Flo Rida ft. T-Pain)
Blame It (Jamie Foxx ft. T-Pain)
Header image courtesy of Carmen Mandato/ Getty Images
Featured image courtesy of Vince Bucci / Getty Images of North America