Manicurists and cosmetologists are well acquainted with the Tammy Taylor brand as her products are used in over 100,000 salons worldwide. Tammy Taylor is an American nail fashion diva and philanthropist who has revolutionized the Nail and Beauty Industry since 1983. Tammy founded her company when she had only $400.00 in her pocket in 1983.
Tammy has conducted more than 5,000 classes while promoting education weekly on her YouTube channel and has created thousands of products and procedures. Along with running her corporation, she develops new products, colors, and techniques daily to keep the industry up.
She capitalized on this opportunity and developed new acrylics, liquids, and technical procedures that changed the industry.
Tammy has contributed to the profitability of the nail industry by creating and developing innovative solutions and systems for everyday nail technicians. The innovations she did in the industry include:
Perfecting the soak-off nail gel
Colored acrylic powder
Designed the practice sheet
Created the Competitive Edge Nail form
Developed the unpainted nail brush handle
Created the flatten brush ferrule
Developed the 12 Step System for the Pink and White French Manicure
Tammy holds the World Record for the Fastest Set of Pink and White Sculptured Nails which she set in 1986 in front of a live audience.
She wrote and published "The Complete Guide to Manicuring and Advanced Nail Technology," used in beauty schools throughout the United States in preparation for State Board Examinations.
Tammy has been the recipient of numerous awards, including the prestigious Remarkable Women Lifetime Achievement Award by NAWBO (National Association of Women Business Owners), one of the world's largest women's business organizations.
Products she has developed have won over 43 Readers Choice Awards as documented in Nails Magazine. She has been a guest speaker numerous times on Nail Talk Radio, sharing her knowledge with the industry. A noted public speaker, Tammy has been featured in hundreds of workshops, seminars, and nail classes around the country.
Tammy quoted, "I started marketing my products and educational expertise by conducting seminars and hands-on workshops to nail technicians, salon owners, and beauty school instructors. I taught them how to put excitement into creating beautiful nails and how to market and build their business."
Tammy Taylor, a professional speaker, innovator, entrepreneur, and mentor to thousands of everyday nail technicians worldwide, is also a wife, a mother of 2 sons, and a grandmother.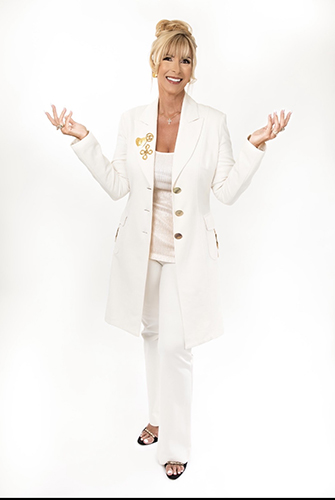 The Beauty Gripper is a gripper and drying stand for your beauty sponges. Tammy Taylor designed it in 2018 while doing her makeup & was so frustrated with her beautiful nails that kept getting so dirty from her beauty sponge. She looked all over for a device to hold her sponge while applying makeup. She found nothing, so she decided to create her own!
She is launching an online Nail Institute. Tammy turned in her Guide to Manicuring and Nail Technology book. The Tammy Taylor Nail Institute (TTNI) works together with Cosmetology Schools to license Nail Technicians.
While Tammy no longer does nails in a salon, she has a few clients, including some friends and family. But in 2019, Billie Eilish reached out to Tammy for nails. Tammy has been doing her nails since and together have created super iconic looks taken over red carpets and magazine covers. Tammy has also featured in Billie's documentary The World's a Little Blurry.
All images courtesy of Tammy Taylor