Music artist, actress, model, and teen YouTube star Blasian Baby Lola, is popping out of her child-entertainer shell and seemingly making intentional strides to use her platform for women and culture empowerment! — She has always been known for her fun and energetic personality and has managed to accumulate a very large fan base through her industry work, as well as her self-produced YouTube Channel.
Recently she has been stepping out to be more publicly transparent about her personal journey and more assertive with making sure her supporters understand what she stands for and that she wants the best for young girls, and essentially everyone.
Yesterday, she was spotted as a special guest on "Survivor's Jewelz" a New Instagram Live talk show by Award-Winning women's advocate, author and DV survivor, Kendra Hall. — Blasian Baby Lola discussed her personal battle with Scoliosis and how it effected her confidence as a child and entertainer. She was ecstatic about using her pain and challenges for the betterment of others.
We noticed that she has also recently started a campaign called "Lola Loves You" where she opens her  own platform on Instagram Live to chat and give one on one advice with her supporters on various topics. — We has the pleasure of catching up with her, and she shared some great insight we'd love to share with you:
When did you know you were destined to be an entertainer? And what has it been like, working towards your dreams since a little girl?
I knew I was destined to be an entertainer, ever since I was younger because I was always able to positively impact people just from my personality and performing in front of them.
Overall, since being a little girl and working towards my dreams it has been very challenging but yet very rewarding in so many ways. Every opportunity that I have gotten has been such a learning and amazing experience. But still being a normal teenager, it was very challenging and still is; especially trying to maintain being a scholar student and managing time with performing. 
How have you maintained the confidence to share your life with the world on a consistent basis? 
I have maintained the confidence to share my life with the world from the help of my family; knowing that I have a very loving and caring family that always supports me through everything. As well as keeping me grounded. They have helped tremendously with maintaining my confidence. 
What was it like for you growing up with Scoliosis? Does it still affect you today?
Growing up with severe scoliosis was very scary and hard. It still is. Knowing that my day to day schedule isn't  as normal as it should be was very challenging for me and lowered a lot of my self esteem among my peers. Having to wear a brace 24 hours of the day, and being restricted to have to wear clothes that could hide my full body brace. Not to mention.. when I wasn't wearing the brace I was constantly going to physical therapy and gymnastics class to learn how to properly walk without showing my bone disfigurement. It was also very saddening that I couldn't participate in certain things at school, due to the fact that I had Scoliosis. Till this day, I still have to dedicate my time towards physical therapy and yoga to maintain the correct posture as well as consistent doctor appointments to monitor the movement of my spine, that it hasn't worsened. 
What motivated you to tell this story publicly?
I didn't realize that a lot of females suffered from Scoliosis, and that being embarrassed about this condition is nothing to be embarrassed about because it is actually a very common condition. I also know that not many people have the courage to talk about it. Someone that actually inspires me is model India Love who suffers from  severe Scoliosis as well and has deviated her time to get a tattoo on her spine to embrace the imperfection she has. 
What do you hope people learn from your experience?
I hope people learn that it is okay to embrace something that God has given you, and all the hardships that come with it is only going to me make you stronger. 
How have you been holding up during the Pandemic? What are some things you're doing to stay connected with your fans?
During this pandemic, I have been holding up good but it has definitely been a very eye opening experience. Having to do online school and being restricted to go and see friends really put a strain on me. But being able to connect with my fans through social media has honestly been the most exciting and appreciating part about being in this pandemic; because I love going live and interacting with them and actually learning each of my supporters for who they are. 
What is next for you? Do you have anything coming up that we should look forward to?
What is next up from me is a variety of things. Music and performing was always an asset for me to allow me to not only gain confidence but to spread it. So there will be a lot more  music dropping soon. I also recently started an outreach campaign called Lola Loves You for my supporters which basically gives them a chance to talk to me one-on-one about any advice or questions they have for me, that consist of Confidence advice, relationship advice, and even their current situations in general. I plan to host multiple events for women empowerment, where I speak to the female youth about being confident in their own skin and teaching them how us females are very powerful. And so, they need to know that we need to carry ourselves in a powerful way.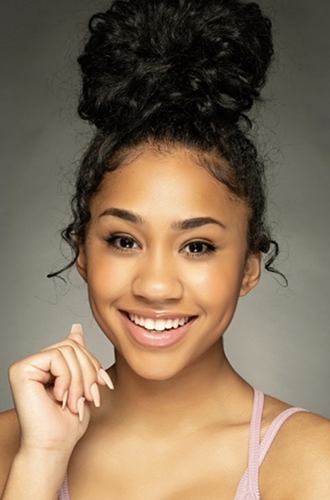 For more on Blasian Baby Lola, follow her on Instagram today!
All images courtesy of Blasian Baby Lola