Dutchess of Ink is such a ray of sunshine… Seriously she is!
Dutchess has been up to a lot of amazing things such as a few endorsement deals with well-known companies, philanthropy work with the community, motivational speaking at several colleges & high schools and Empowerment Programs, being one of the most influencing radio personalities for 92.7 The Block, modeling for dope brands, guest tattooing at different shops domestically and internationally in other countries and so much more. She is true artist in multiple genres of the industry. Her celebrity clientele in Pretty-N-Ink is climbing beyond measures. I looked at Dutchess and told her, "Girl, you are UNSTOPPABLE'.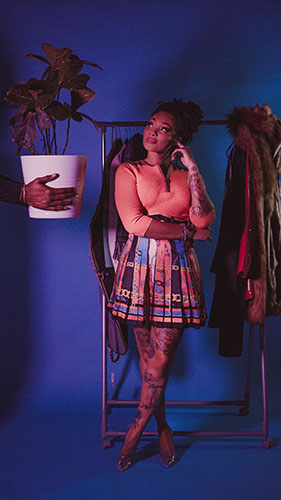 I spent a weekend shadowing a "Day in the Life of Dutchess" and I learned even more about this Boss Queen. We had intimate conversations about self-esteem and strength and she told me that we as a culture have to learn to LOVE OURSELVES more and really tap into "Self-Care". She does a segment on her "Dutchlogy" radio show and she has two topics that really stuck out to me and they are "Strong Friend Check In" and "Self-Care Sunday" where she gives tips and encouragement to her listeners. She speaks on how important it is to check in on your strong friend and make sure that they are good mentally. She spoke of how important it is to have strong friends in your life, because they will not allow you to quit or fail. Dutchess has a strong core of family and friends that surround her with love, pray with and for her, they give constructive criticism when needed and they support everything she does wholeheartedly. She is very transparent with her followers on her LIVE videos and posts about her growth and her journey, in my opinion this has been a great counteract to any of the adversity that she has had to face.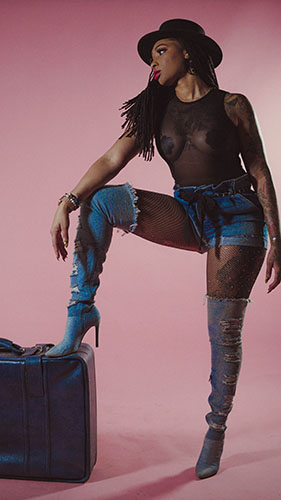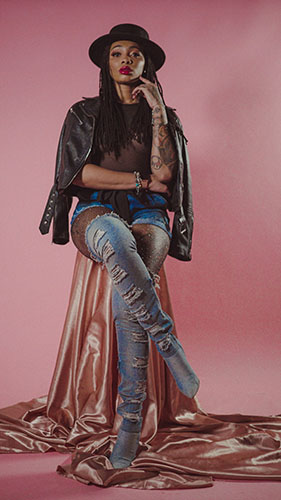 I watched her work so hard in two days; she honestly blew my mind in such a beautiful way. She recently lost two very close family members at the top of the year, who were very dear to her heart and a huge asset to her creative career (her Uncle and Grandmother passed away days apart) and she worked through her adversity with so much grace & beauty. In two days she did three photo shoots for two editorials and a brand campaign, she also filmed a commercial, conducted her radio show, worked at her tattoo shop, and more. She still found time to spend with family, attend church and also talk with her team about strategizing & rebranding. When I asked Dutchess how does she keep it all together, she simply replied with her cute southern accent, "It's all God."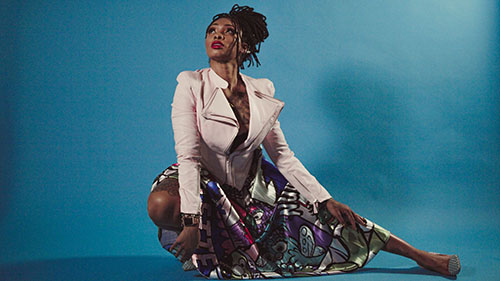 Being that her first love is art and she will always be in love with art, we made sure that we captured a very romantic take on Dutchess' personality with pops of color. This editorial was all about the arts and Dutchess being free & hovering above the muck. To know Dutchess is to love her and to respect her as a hardworking individual that has the strength of a lion. We were able to capture her in such an artistic way and we had so much fun telling her story creatively.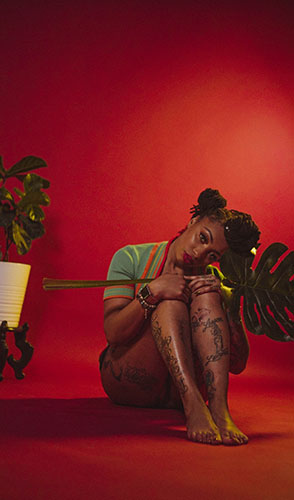 PHOTOGRAPHER:
12am
@12amcollective
STYLIST & PROJECT MANAGER:
Designer Tasha
@von_of_vonray
CREATIVE DIRECTOR & STYLIST:
Dennis Robinson II
@d2artz
MUA:
Charde Thompson
@charderene
Brands: VonRay Designs Halo Hats, Hollister, Christian Louboutin, Zara, H&M
This feature was submitted by Latasha Henderson-Robinson
Latasha Henderson-Robinson, also known as Designer Tasha is well known for her being apart of the cast of Internationally syndicated television show, Project Runway, Season 15. She also is the Style Director for Heed Magazine and Contributing Fashion Editor for several fashion platforms. When Designer Tasha isn't writing about Fashion or Styling, you can find her behind the sewing machine creating dope designs for Men, Women & Children. VonRay Designs has been seen on runways from America to Africa, worn by several celebrities and featured in several publications. She is a huge advocate of "Fashion for Cause" and gives back through several missions all over domestically & internationally to families in need.