Last Summer, Sheen had the pleasure to sit down with Hip Hop's Favorite Publicist, Peezy. Yet, a year later we had the chance to catch up again with the IT girl herself of Media and entertainment to discuss entrepreneurship, her evolution as a Publicist and her best accomplishment yet, becoming and preparing for Motherhood. So, in case you don't know who we're gushing over it's none other than, Toronto's own, Lisa Persaud. She's a Boss, Beauty and Bonafide Hustla in everything she touches. (Literally) Peezy has had her hand in publicity and her foot on the neck of the girls ever since she was fourteen, and the Bombshell is not letting up anytime soon. From music to motherhood, this businesswoman is focused on creating a legacy beyond today. Take look at what Ms. Peezy herself had to say about the pandemic, career evolution, becoming a mommy, and what's next in this Sheen exclusive. Check it out below! 
How did the pandemic reshape the dynamic of your career as a publicist?
It affected my career significantly by the dissolution of events and concerts. Human interaction was taken away. COVID-19 shifted us into a more digital dimension. We saw this with the expansion of online boutiques, cryptocurrency, virtual education and more. Overnight, I had to discover how to survive in this new world. So I went more digital, I increased my viral branding, created marketing survival solutions for existing and new clients. I began to build a better rapport and reputation with my following, by offering new solutions. I decided to look at the pandemic as an opportunity.  I considered this time as a blessing to venture and explore other opportunities. During the pandemic, I revamped my PR firm and created alternative opportunities for upcoming talent and entrepreneurs. Without this pandemic, I never would have been so forced to be aggressively motivated to expand – which I am proud to say I have.
You've been working in entertainment and event planning since you were 14 years old. How have your strategies and expertise as a Publicist and Entrepreneur in entertainment evolved over the years?
I believe we all learn and grow with experience and from those we surround ourselves with. I owe a great deal of my knowledge to my mentors and those I've worked with.
From a young age, I worked with Craig Brodhead under Ruff Ryders, to EClass with Poe Boy, Sal from XO, Puff Bad Boy and I've been fortunate to gain valuable lessons.
Naturally, business teaches you with trial and error to be encouraged rather than discouraged about closed doors. You discover how to find a window and create an opportunity. I don't possess a formal education in my industry, but the most valuable thing I did was volunteer, listen and build relationships. When you combine experience, hard work and a valuable network, that's a lethal unstoppable combination. It's a strategy learned early and one I've kept. This business is based on your network and credibility, you have to keep working at it and adding to it.
Was there ever a moment you wanted to give up and switch industries? If so, what kept you motivated to keep going?
When I was 21 and launched my Toronto Urban publication "Industry Magazine", I was offered an opportunity to have my own reality show, based on the come up of the magazine. Long story short, the producer invited me over to discuss my contract but they suggested inappropriate advances with me and I declined. As a result, I was told I was not ambitious enough and the contract would be terminated. Throughout my 21 year career, that was probably the ONLY split second I ever considered getting out of this business. I knew I was hard working, intelligent and not cheating the system, so why be punished for that? But it was a lesson I needed. It was a reminder that I am a woman in this business and there will be scum that will take advantage but don't break. At that time, I was becoming a role model to other young women and I couldn't disappoint them. They needed to see a woman make it, without compromising her values.
Ten Years from now, where can our readers expect to see from Lisa Persaud?
That is a good question, (she laughs). I will always love the music industry but I do see myself expanding my profession to Hollywood and Sports. I desire to be influential but also inspirational. I want to give the young generation knowledge to create opportunities for themselves, so perhaps a publication series for the young ambitious entrepreneurs.
My goal is to publish the debut of my first series by the end of 2021 and launch my son's luxury line "ShopLeDon" . Sheen is the first to hear about this and you will find out more soon! I am hoping the expansion of my empire will create generational wealth, so that in ten years I can look back and be proud of my accomplishments.
You're having a baby. Congratulations! How much more does the word Legacy mean to you?
Thank you! Yes I am expecting my first child (baby boy) this October!
Legacy… Legacy is an imprint, not something material but one's accomplishments and impact during their lifetime. An impact so honorable it's remembered for eternally and sets the bar for the generations to come, to want to aspire to be just as memorable.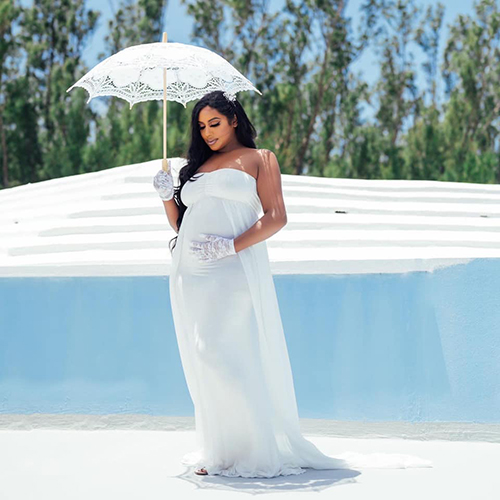 Now that you'll be a new mom, will you indulge in new business ventures that are family focused or for new moms? If so, here at Sheen we're eager to know what they are!
It really is crazy how motherhood changes you. It really sinks in that I am expecting and will have a family. My first call to action was to create a business for him. I come from a strong business minded successful mother. She was a single parent that flourished in the fashion and finance industry, while raising my brother and I.  With that in mind, I wanted my family to start off with an opportunity, to build and grow an empire.
So, in honor of my son, I decided to create a brand for him. A male luxury line for toddlers to grown gentlemen and "Shop Le Don " was born. Meaning the gift. The gift of life and opportunity. Between his father being a natural model and entrepreneur, to our fashion sense, my mother's influence, fashion background and my network, branding and styling obsession – it seems foolproof. I am ecstatic to work on this family project, dream and pass it down from generation to generation.
And of course, me still being an open book, I may add PR and Parenthood to my future series. You guys will have to wait and see! (laughs)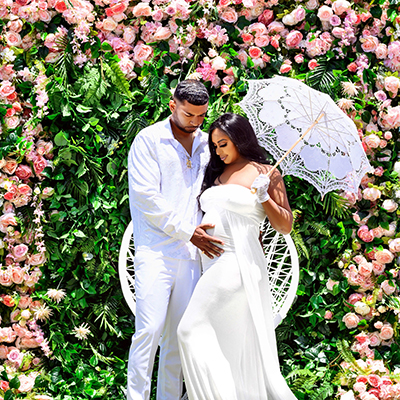 Would you say that a great publicist is the engine & key component to an artist's success? If so, explain.
I would say a great publicist is a key player in an artist's success. I believe the success of an artist or brand is a team effort. From production, management, agent, marketing, labels, etc. If everyone is valuable and plays their position, it's inevitable they will win.
 What are some myths or misconceptions about being a female publicist?
Unfortunately, being a woman in this industry can come with a bad stigma. People see the "glamor" of red carpets, exclusive events, late nights with talent and traveling. So, they love to make assumptions that the females are promiscuous. It stems from jealousy and ignorance. I've heard the most distraught rumors about myself, and it can affect you, but in time you learn to grow thick skin and realize all it is, IS ignorance and most likely coming from a person who has never or can never play your role.
You've mainly worked as a publicist in the HIPHOP Industry, is there another genre of music you would like to explore your talents in?
I would like to work with what I enjoy and know, so I would stick to hip hop and R&B for now, (she laughs).
The lows, the highs of the industry, how do you embrace it and stay prepared for it all?
There will be good days and bad. You will experience glitches at shows, temperamental talent, breakdowns at events, anxiety at an all-time high, but the best formula is to be prepared to the best of your ability. Master crisis management and learn to keep your emotions out of it. It will work out, nothing worth having comes easy, and when it's all said and done – the sense of accomplishment will make it all worth it.
What's the story behind your publicist nickname "Peezy"?
(She Laughs). I have to shout out my boy Drizzle. We worked promotions together at Poe Boy Records in Miami and at the time, Rick Ross was coming up. One day he just started calling me "Peezy " because it was as if anyone wants something done right and efficiently – it's like go to Easy Peezy. And the name stuck with me ever since.
For more on Lisa Persaud, click here.
Stay Connected
Instagram | Facebook | Twitter
All images by Donovin Seymour Photography (Bermuda)