Meet entrepreneur Mariel Mejia, the Afro-Latina from New York became frustrated with constantly having to relax her hair. Growing up her hair type was considered as 'bad hair' without a relaxer. Wanting to revert back to her natural hair she found a lack of resources and support initially in her journey. Mariel started experimenting in the comfort of her own home; her mother's kitchen! The brand was birthed from her creating her own signature formulas without the use of harsh products and chemicals. Starting to see a significant difference in her hair she decided to launch Pink Root Products. We discuss the passion behind the brand, her thoughts on how the pandemic will affect the beauty industry going forward and why she is changing the narrative of the natural hair industry.
First of all, tell us a little about your background and how you got to where you are today with Pink Root Products?
Pink Root Products started as an experimental project in my mother's kitchen in The Bronx, New York. I was about 18 years old and a college freshman at the time when I decided I was done with relaxers, weekly visits to the salon, and other forms of damaging hair manipulation and went natural cold turkey. It was hard at first because coming from an Afro-Latina background where my hair was considered "bad hair" or unmanageable without a perm, I felt that I didn't have many resources or support at the beginning of my journey. I also wasn't too crazy about the idea of a big chop so I set out to find products that helped me transition but didn't feel that anything in the beauty supply store was truly helping because everything was diluted with chemicals and fillers that served no real purpose in my hair. I started doing my own research and began creating my own mixtures at home and I saw a huge difference in my hair. That was when Pink Root Products truly began. 
Where does Pink Root Products fit within the growing natural hair industry?

Pink Root Products heavily gears its focus on formulas. We don't want our products to simply just hold a style, we want our products to nourish your hair and make it healthier over time. We use organic and ethically sourced ingredients in all of our formulas so we don't use any silicones, parabens, mineral oils, or sulfates. Every ingredient in our formulas is picked to replenish or revitalize your tresses. 
What were the main objectives when creating the brand?
The main objective behind creating the brand was creating something that aided in the process of embarking on a new natural hair journey. I was a beginner like everyone else and I wanted to create a solution to products that were catered to women who are already natural or have a thinner hair texture that's easier to manage. It was my mission to create formulas that could enhance your curl pattern but also help a more damaged hair type that needs hydration and vitamins in order to regain its strength and promote hair growth. 
Who are Pink Root Products aimed at?
Pink Root Products is aimed at the everyday woman who is just trying to keep her hair healthy and manageable throughout the week so washday doesn't become such a drag. Our styling products keep your hair hydrated and tangle-free for days on end making life easier and your hair routine a lot lighter. 
Tell us a little about the products and what distinguishes you from other natural hair brands?
For starters, our products are naturally pink in color which we achieved by incorporating Alkanet Root powder into our formulas. I thought adding a fun color in the mix would help us stand out as a brand which is exactly what it has done. Another key aspect of our brand that sets us apart from the rest is our commitment to making products without the use of harsh chemicals and keeping our consumers health in mind when creating formulas. We aim to be as natural and as transparent as possible
What is the best advice you've received when it comes to business?
The best advice I have received about business is to be patient. As a young entrepreneur living in a society where everyone posts their accomplishments on social media but never their struggles, it's very easy to feel discouraged when you don't see results right away but I've learned that all progress is progress no matter how big or small so just hang in there and keep pushing forward.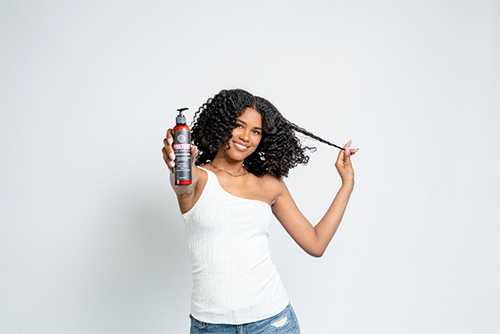 So far what have you learned about leadership and entrepreneurship?
So far what I have learned is that you are as strong as your weakest link and although it sounds cliché, it's very true. You need a team in order to make it happen and without a steady foundation of people you trust and believe in, accomplishing your goals will be that much harder so chose your peers wisely.
In the midst of this pandemic, how do you think it will affect the beauty industry going forward?
I think the way in which the beauty industry is going to change is in how we interact with one another. Events and large gatherings are a big part of the industry for product launches, networking, vending, etc. and I think brands and companies are going to have to rethink how they reach out to consumers, retailers, and their audience in general. With this being said, we have begun to explore and adapt to our current situation in order to stay in touch with our community so we can continue to serve them better.
With what is currently going on in the world, do you feel that Black businesses get enough exposure? If not, how would you like to see that change?
With everything that's been happening, I feel that black-owned businesses are getting more visibility but I hope that it's not just a trend and will actually last. I would like to see this change with black people taking on leadership roles across all industries and not just fashion, beauty, and music. We need to see familiar faces in executive spots within tech, government, media, healthcare, and so much more and beyond. 
Where do you see Pink Root Products in the next 5 years? 
I see Pink Root Products being a leading company in the health and beauty industry that will continue to educate and support our community. We look to expand our horizon in order to thrive and set a new standard that will inspire like-minded minorities to push the bar and achieve success.
You can find the brand here.
All images courtesy of Pink Root Products