Houston native, Chadd Black, popularly known as "The Mogul In The Making" is a man known for his dedication to the arts community and his creative career. With every move, Black has executed his visions in the world of music, entertainment, and business. We caught up with him to discuss the launch of The Chadd Black Academy, the 713 Agency, and much more!
Tell us about what it's like being a creative in the city of Houston?
Oh wow. Being a creative here in Houston is interesting. The world has so many different views and examples of what we do here. From Lizzo to Beyoncé, we have a lot of amazing talent that have come out of Houston. Each individual is unique in their own way. For me, following in the footsteps or coming along with that, it's really been an amazing thing. Houston accepts you for who you are as an artist. You don't ever feel any pressure to be something you're not here. I really couldn't think of a better place to hone my gift and share it with others. I'm thankful to have done it in my city and to have the supporters that I do.
Where did the nickname "The Mogul In The Making" come from?
People have kind of given me that nickname. I would assume that it is because I have my hands in different industries. Usually things that I set my mind out to do, they become successful. In light of my attempt to be in different interests that I've taken on, people have just coined me as "The Mogul In The Making" over the years. When you think of Jay-Z, you think of the many ventures that he is apart of or that he's made. He's a man that can do a little bit of everything. That definetly is me unintentionally. It's not something that I put a lot of effort into doing on purpose. It's just who I am. It's hard for me to kind of sit in one lane. I've always been great at multi-tasking in my own opinion. With some of the fruit of that labor, people can see that it's a nickname I've been given affectionally. It's beginning to expand within the industry outside of Houston.
Can you tell us about The Chadd Black Academy?
The Chadd Black Academy is something that has been in the works for a while. It will be launching January 1st. It is an academy that will specialize in artist development. I work alongside some major Indie labels and one of the things that I see a lot is that there is underdevelopment of artists. They kind of get thrown into situations where they are not properly trained. We will be offering media training, how to properly record in the studio, what it looks like creating and delegating a team, the business aspect, from A-Z, it includes everything you need to know in this industry. We'll be hosting and having workshops, not just in Houston but for aspiring artists around the world.
What inspired the creation of 713 Agency? What is your overall mission?
The reason behind it was to give artists something that I didn't have when I got started with my artistry. 713 Agency specializes in protection. We want to protect the artist from bad people in the industry and teaching them what handling their business management is all about. We want to help them along the way. We allow them to sit in on meetings while we negotiate on their behalf. We also manage talent and negotiate brand deals from models to visions. We create custom contracts, it's all in the name of protecting the artist. It's not just about the money, it's about protecting the legacy of the artist from the time they begin so that they don't have to do a bunch of cleaning up or go back and fix things, as I had to do. The whole purpose is to be able to give artists who can't afford a whole team, a team at a very discounted rate yet still get the same effect and protection as a major label would offer an artist.
What can we expect to see from you in the future?
You can continue to expect me to cross barriers and do things that typically people wouldn't be brave enough to do in business. You can expect to see The Chadd Black Academy take off virtually first and eventually a business or a physical building will follow that summer (summer 2021). You can expect me to release different collections from my beauty brand that is still evolving. You can expect a new album from me as well as an artist. In 2021, you can expect me to continue to partner with other brands through modeling. I will continue to do what I have started and keep that consistency to ensure that I live up to the "The Mogul In The Making." Eventually one day, I will become that Mogul so that I am no longer "in the making," I'm just The Mogul.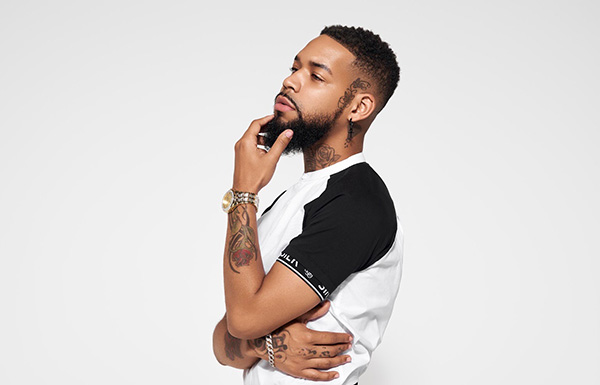 For more on Chadd Black, follow him on Facebook, Instagram, & Twitter.
All images by Demarcus Adams