Wanda D. Hollis is a renowned motivational speaker, author, businesswoman, transformation coach, and media personality whose passion for people shines through in her work. Affectionately known as "The Motivational Queen," Wanda is the founder and CEO of Atlanta's premiere lifestyle development and coaching company, Walking Through the Storm, LLC. Her commitment to helping others achieve their greatest ambitions is truly remarkable, which made sitting down with her for this Sheen Magazine exclusive a momentous occasion.
Who is Wanda D. Hollis?  
I am a spiritual being given an earthly assignment. I am the daughter of Jaqueline Patterson; may she rest in peace. I am the mother of two extraordinary children and the grandmother of six beautiful grandchildren. I am the eldest of two loving brothers.  
I am a certified business accountability coach, transformation speaker, and trainer with the John Maxwell Team where I help entrepreneurs, businessowners, and coaches formulate strategies to win in their endeavors. I am also the producer and host of the I Am Enough talk show, The Winning Evening News, and The Mastermind Experience Podcast, which is an outlet for my interviewees to gain maximum exposure. I am the CEO of Peak Estate and Investment Services.  
I am a published author of three books and am currently working on volume 2 of Wake Up Winning No Matter Whatbecause losing is not an option. The second volume is scheduled for release in December 2020.
I enjoy spending quality time with family and friends, writing poetry, traveling and meeting new people. My mission in life is to live in the spirit of honoring my Ancestors and God.
What inspired you to become an author?
My first book is I Am Enough, An Empowerment Journey through Poetry and Affirmations Expanding Your Zest for Life! This book is filled with poetry, questions for reflection, 107 affirmations to live by, and what I call "shorter than short" stories.
When I decided to publish my first book, I was in an extremely uncomfortable situation. My house had been foreclosed and I was, by definition, homeless. To say that I felt down on my luck is an understatement. But even with everything going on, my soul was still on fire. I knew that my current situation was not my final destination. In losing or letting go of those material things, I discovered a superpower within.  
My first book was the deliverance of inspiration to not only myself but to my readers. I intended for the book to encourage readers to stop procrastinating and start living their dreams now. Writing the book gave me the strength, determination, and courage to believe in myself completely. That's what I wanted to instill in my readers. "You are enough to live life on your own terms."
The book is also accompanied by a published spoken word recording.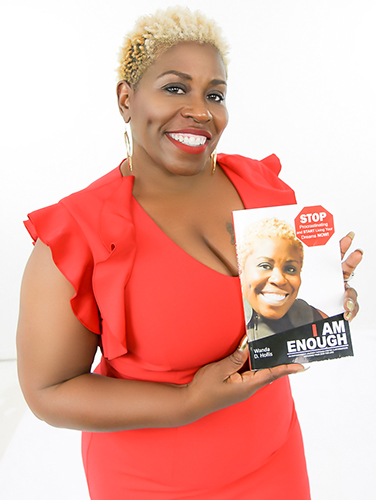 How can you utilize your expertise to help people achieve their goals?
You know, being raised by my grandparents gave me insight into business and community. They imparted on me a sense of pride and compassion for others that later had a profound impact on my life. I guess you can say that, unknowingly, I was being groomed for becoming what I am today. I'm continuously looking for opportunities to expand and grow my clients' businesses. I take on the assignment of offering them strategic planning and calculable systems to ensure their goals are within reach.
In the realm of media marketing, it's all about positioning oneself on the right platform and developing the correct sound bite and marketing plan. It doesn't matter how much time you have to pitch your product; it's about how the message is delivered. I not only help my clients get on the right media platform, I guide them in delivering their message with passion and zeal. Each of my clients are unique and their needs vary from marketing and media to accountability. Once we identify the priority, it's a matter of implementing a plan and getting it done!
What advice would you give to someone who would like to mirror your success?
I didn't set out to become a business coach; it called me and, honestly, it is not always the easiest hat to wear. I would tell aspiring business coaches to make sure that the career field pleases your soul because it takes a lot more than a certification to be successful. I would also encourage them to have a coach because every good coach has one and every great coach has several.
What does success mean to you?
To me, success means doing what you love and loving what you do. One of my favorite quotes is by Winston S. Churchill: "Success is not final; failure is not fatal. It is the courage to continue that counts."
What sense of purpose do you draw from your culture and community?
During my childhood, we had block parties, community gardens, and thriving mom and pop businesses. We really looked out for one another. If a neighbor was in trouble, we all lent a helping hand. We took pride in our community and the people within it. Being a product of a strong community and a loving family is a driving force behind everything. Although today's climate is much different, I am still rooted in those beliefs. I love people and I want everyone to win.
Why is leadership important?
Leadership is an important function of management that helps maximize efficiency and achieve organizational goals. If we don't have good leadership then, more than likely, we won't accomplish our goals. So, whether it's a business or personal goal, great leadership must be sought. This is the main reason I'm associated with John Maxwell. Becoming a certified trainer, teacher, speaker, and coach has afforded me the luxury of working with various companies and government officials.
Being a leader is more than a title; it's a responsibility to serve. Another powerful attribute of leadership is developing above average listening skills. Always remember to listen not only with your ears but with your heart as well.
How can we learn more about your work or get in contact with you?
Website, Email: wandad@iamenough365.com, Schedule a Consultation here, Text: 404.721.1724.
Featured Image by Tracy Bumpers