With some grit and a creative mind, the real and pure hearted will always win in the end. This is a true testament to the multi-hyphenate, Supa Cent who is breaking barriers (and records) and won't be stopping anytime soon. With a multi-million-dollar portfolio and an esteemed social media presence, her success did not happen overnight. When Supa Cent, born Raynell Steward, logged on to social media to spill tea to friends, family, and followers while working as a server turned housekeeper in New Orleans, she never expected that her casual pastime would turn her into an internet sensation, let alone a beauty mogul. If you follow Supa on Instagram, you know she is going to keep it real and only allow positive energy into her space. With nearly 3 million Instagram followers, Supa has proved to be an inspiration to millions all over the world and is sure to stay humble along the way.
With a big hustle mentality, it was a no-brainer that Supa would be successful in anything that she did in this life. Before starting her beauty brand, The Crayon Case Cosmetic Company, Supa was growing a following on Vine, Facebook, and Instagram. She'd talk about any and everything on her pages and frequent humorous live streams, including how people would get blocked if they came to her with any kind of negative vibes. And after gaining so much traction, Supa realized she was on to something. People loved relating to her stories, plus they wanted her style. "Every time I did a video that went viral, I started selling something from it. I was selling anything that I was seen with on social media. If I was wearing fanny packs, I would be selling fanny packs. If I was wearing headphones and my followers asked about them, I would try to sell it. I felt like, if people were going to ask me where I got something from, I might as well sell it."
Supa shows us that there's power in consistency and authenticity. Ever since her school days, she was not one to be played with, respectfully. On and off social media, she stays true to herself, and we don't see much of that these days. "I'm a real vulnerable person so if something is bothering me, I have no problem speaking on it. Social media became that avenue for me and once I started sharing, I felt like I wasn't alone in how I felt," she says. In a society that romanticizes glamor shots on social media, there's no doubt that Supa's transparency played a major role in her success. "People see me as a normal person. I'm never going to sugar coat things, because that's what I'm known for and it's just who I am. I don't defend myself all the time, but if it's something that's near and dear to me, I'm going to defend myself. And that's why I think people gravitate towards me."
For out-of-the-box, preppy, and vibrant products, makeup lovers point to school supplies-themed cosmetic line, The Crayon Case. Her company began in 2017, little did Supa know that she'd make $1 million in 90 minutes from a Black Friday and Cyber Monday sale. Supa had no makeup experience, nor any intentions on becoming a beauty-preneur at that. Getting booked for promo gigs but having difficulty securing makeup artists in different cities led Supa to teach herself how to be her own makeup artist, and of course, she had to capture those moments live on social media while doing so. "People actually saw me get better at [doing makeup]. I felt like Iif I could do it, y'all can do it.' People kept asking me what products I was using, and that's how the idea came for The Crayon Case. And a lot of women on social media introduced us to makeup trends that people wanted to try, but makeup was too expensive to just play in at the time. So, I came out with something affordable and looks fun so that people are not intimidated to use it."
Today, the $50 million brand has shoppers of all skill levels from all over the world and is dedicated to beginner makeup users. The playful (and nostalgic) brand offers a range full of makeup products from eyeshadow palettes, to concealers, to lip kits, and it's everything Supa dreamt of. Constantly tapping into her creativity, she's always looking to expand her mind and her business. "Every product that the Crayon Case came out with, I thought of it myself," Supa tells me. "Sometimes I will just walk down the school supply aisle in stores and see something that looks like it could be a foundation or concealer." With names of products like Chalk Dust Setting Powders and Hall Pass Lip Glosses, you're sure to slay and have fun with The Crayon Case.
Supa has made major accomplishments in her 30's that many don't accomplish at all in their lifetime. Just to list a few, she broke the Guinness Book of World Records for the "The Largest Toy Giveaway" in 2018, The Crayon Case was featured as one of "Oprah's Favorite Things" twice, and she was able to get her brand in Walmart stores within just a few years of its launch. Although seemingly rewarding, Supa had no shame in spilling that shifting into a large retailer was nothing short of difficulties. "We are being told on social media that the end goal is to be in stores and, and once I got in stores, I realized that ain't true," she recalls. "Walmart was a huge disaster. My business was not ready. I wasn't financially ready to even keep up with Walmart. It is a great accomplishment, but it is not smart for a business that's only been out for four years. I think [selling] in stores is something you do when you're ready to kick your feet up and relax." Channeling that energy to make a difference, The Crayon Case is one of the brands helping to reinvent Walmart's Beauty Model, as seen in WWD.
As a self-made entrepreneur, Supa has definitely had her fair share of blessings and lessons. In just an hour conversation with her, she dropped so many gems, and here are some of her best pieces of advice for budding business owners:
IT'S OKAY TO TAKE THE STAIRS
"Don't be influenced by social media only. Social media says if you don't have a house or a foreign car, you're not doing well. But, you don't even know if they really have the house or car, if they bought it, are leasing it, or are just using it for promo. If you are trying to build your brand, work at your own pace. It's okay to go slow. You don't have to try to make hundreds of thousands [of dollars] in your first year. You don't have to try to work with all these big people and be in the negative because you're trying to look like a big brand. It's okay to take the stairs, take your time, and actually do all the research you can for your business to get big."
YOU ARE YOUR BRAND
Although known to speak her mind unashamedly, Supa learned that there's strength in silence. One of the biggest pieces of advice that she received early in her career (and still uses to this day) is to be cognizant of what she says and does, because she is her brand. "I had to learn a lot of social media etiquette once I became a real business savvy entrepreneur. All press ain't good press. I am the Crayon Case. So, if I say or do something and social media takes it wrong, then it's going to reflect on my company," she says. "Once we became friends, [Love & Hip Hop's] Yandy told me to stop speaking on other celebrities and their situations because you never know who you'll work with in the future. In a few years, if you want to work with a person, they'll dig up old videos of you talking about them in the past. So, I never make videos about celebrities."
PUT YOUR MONEY TO WORK WITH REAL ESTATE
"When I started making so much money at one time with The Crayon Case, that was the most money I had ever made in my entire life. I was making money so fast, and I was taught to never just leave money sitting in the bank. I had millions of dollars in the bank so I said I might as well buy a property. And every property I've bought, except for my warehouse, I bought with cash. I rented out one of my houses and I started buying commercial properties. I have a lot of properties now that I'm just waiting on the market to go up to sell, build on, or flip."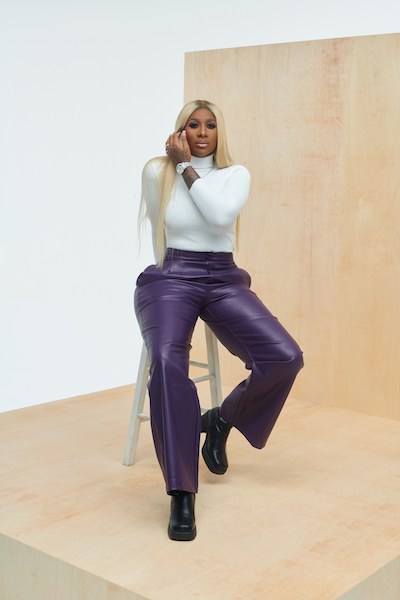 Speaking of the market, Supa is officially off of the market! Back in May 2022, Supa said "Yes" to the love of her life and now fiancé Rayzor Breaux. The wedding planning has begun and the power couple can't wait to tie the knot in December of 2023. Also hailing from Louisiana, Rayzor is a well-known event curator and entrepreneur who owns the upscale lounge, Vogue Lounge. "I always told myself, in my next relationship, I want to be with an entrepreneur," Supa tells me, when asked about being in a relationship with a fellow entrepreneur. "I don't mind a man with a 9-5, but sometimes it can be hard to make a man understand what's going on in your life when he's not an entrepreneur, or doesn't have the responsibilities of an entrepreneur. When I met [Rayzor], he had a career as a process operator at Exxon Gas and he was an entrepreneur as well. I loved that our conversations were different."
Relationship goals? Yes! Without challenges? No. "It's also tricky because he's just as busy as me, and that's what I'm not used to. But I'm so grateful for that because I was so used to a man that always had too much time for me. He's a man that doesn't need anything, and I wasn't used to a man with his own responsibilities, his own identity, and so much going for himself to where he doesn't need me. I'm grateful that I am with an entrepreneur. I have my days where I feel like he's too busy, but I wouldn't change it."
As a mother, fiancée, investor, CEO (and Co-CEO of her new venture, Bayou Scooter Rentals), and so much more, Supa still makes self-care a priority. How does she balance everything, you ask? "The same way we used to balance it when we had eight hour jobs," she laughs. "I give hours to my business and then the rest of my day goes to my children, my fiancé, and whatever else I want to do that's fun. And I have my off days that's all about me."
It's been a few years since The Crayon Case has released a new collection, so I had to ask if there's any launches on the way. And lo and behold, Supa reveals a collection of all nude shades will be coming out by the top of 2023. "This will be our biggest release. I want brown and darker women to understand how beautiful these colors look on us," she says. In the near future, Supa also hopes to help more people on their business journeys with an intimate and transparent business masterclass that her followers have been begging for. "There's so much to accomplish and I'm excited to accomplish more. I feel like my lifestyle is great, but in order to keep it, I gotta do better. I gotta work harder and smarter. I'm excited to see what's coming for me and my businesses in the next five years." And so am I. Follow Supa Cent and The Crayon Case on Instagram, to keep up with all there is to come.
photos by Cosey Photos